We have we all seen them. The ugly tags that are placed at the top of Wikipedia articles, often used as a badge of shame by an editor who has nothing better to do but troll Wikipedia looking to make their mark by placing tags on articles. This is very frustrating if you have an article that is specific to you or your company. When trying to maintain your brand on Wikipedia, there is nothing worse than seeing these tags at the top of your article. That is why it is often necessary to hire a Wikipedia writing service in order to maintain the stability of an article.

One tag that is very common to see is referred to as an "orphan" tag. Just as the title suggests, it is an article without a home. By that I mean it is an article that stands by itself and does not interact to any other article within Wikipedia. The tag states that "no other articles link to it" and requests that editors introduce links in order to de-orphan the article. To me, this seems like nonsense as it takes less time to link another article than it does to place such a tag, but sometimes you have to clean up the mess of editors who would rather place a tag than correct the issue that they are tagging an article for.
An orphan tag can be removed once you have introduced from other Wikipedia articles. For instance, if the article for George W. Bush was tagged as an orphan (unlikely, but I need to provide an example that will not cause editors to retaliate against me by damaging an article I mention), you could link it from the article for Harvard Business School under the alumni section. You can see from the example below how this is already done.
Look at the Harvard Business School article. You can see George W Bush linked in blue under the list of Notable Alumni: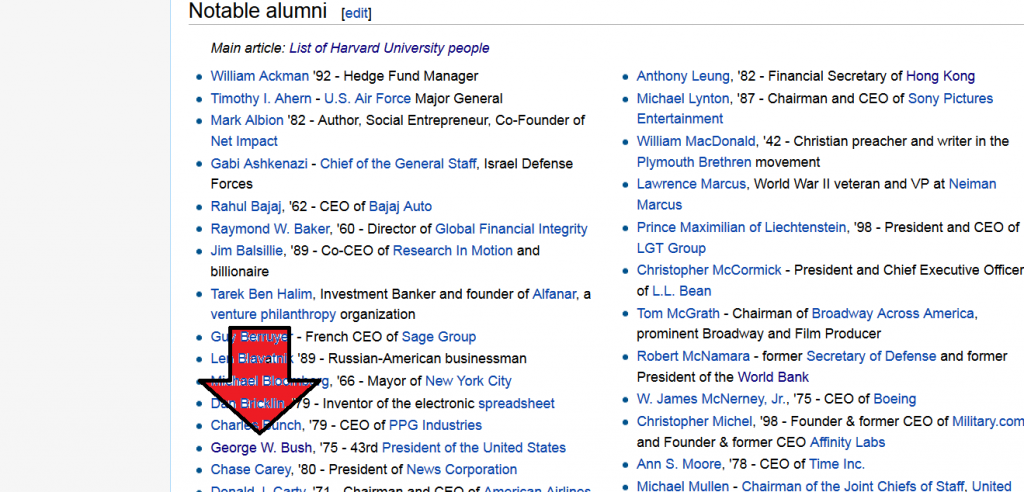 As the article links the name George W Bush to the article for George W Bush, it would no longer be an orphan. So, if you want to remove an orphan tag on your own without hiring a Wikipedia writing service, here is what you will need to do.
When creating an article:
When creating a Wikipedia article, make sure that you pay attention to other articles that could be linked to the one you created. For a person, the easiest way is to add them to the notable alumni sections of the schools they graduated from (similar to the George W. Bush example above). You can also link a person from the company they are employed for (e.g., CEOs of a company should be linked from the company page). The best way to remove an orphan tag is to make sure that one is not placed on the article in the first place.
When editing an article:
If you are editing an article with an orphan tag without the help of a Wikipedia writing service, you will need to locate an article in Wikipedia that you can link the orphaned article from. To do so, use the Find Link Tool located here. Simply type the name of the article you are editing and it will find potential Wikipedia articles that you can link from. To further use the example of George W. Bush, you can see the following screen shot of the articles that return using the Find Link Tool. Not only does it show other articles that can be linked to George W. Bush, but also shows you variations of the name you searched which could lead to many more possible links.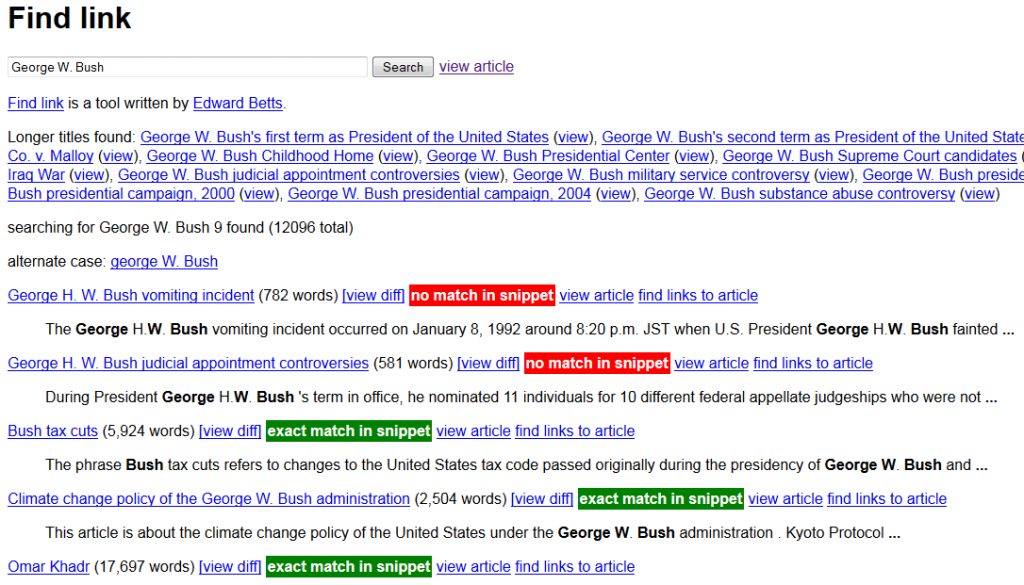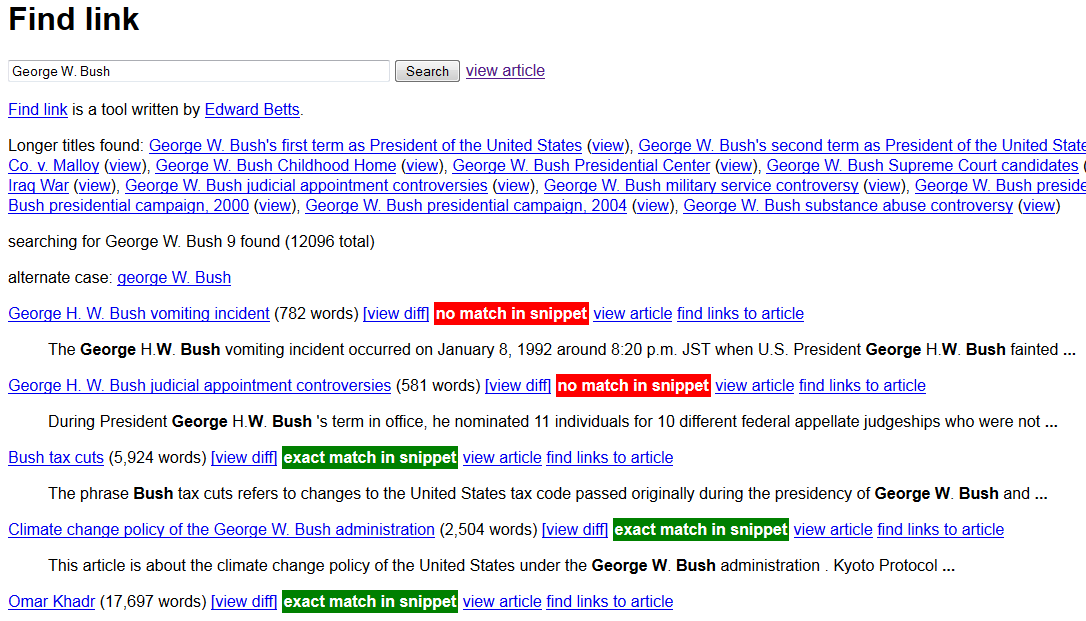 How many links are too many:
With Wiki-linking, there is no such thing as "too many" links. Linking articles together on Wikipedia is what makes Wikipedia such a useful tool for finding information. You only need 1 in order for an article to not be considered an orphan, but I would recommend linking at least 3 or 4 articles to be sure that an editor does not come back along and try to justify re-tagging the article because of only a single link. Hiring a Wikipedia writing service to help remove such tags will normally lead to several links to your article and the permanent removal of the orphan tag.