Wikipedia Page Writing Services:
Have you ever tried to write a Wikipedia article only to watch it be deleted within minutes? Chances are you failed to adhere to one of the thousands of guidelines that govern the creation of Wikipedia pages.
Wikipedia is difficult to navigate and many have run into problems trying. Our firm was started as a professional Wikipedia editing service and we understand the Wikipedia page creation process. In addition to page creation, we offer page updating, monitoring and maintenance. We can also translate your Wikipedia page into many languages. You worry about what you do best and let us deal with the bureaucracy of Wikipedia.
How much does it cost to create a Wikipedia page?
The cost to write a Wikipedia article depends on numerous things. One factor is the amount of content that will go into the page. Another factor includes controversy surrounding the topic (as it will be more difficult to create and/or edit).
Cost can range anywhere from $250 to $3,000; however, most Wikipedia articles fall within the $400 to $800 range. Note there is a minimum charge of $150 for any editing, including minor edits.


We advise everyone to reach out to obtain an accurate quote. Simply contact us with as much information about the topic as you can (please includes links to the topic such as news coverage and official website) and we will provide you with a quote, normally within 24 hours.
Why have a Wikipedia page?
Google loves Wikipedia and as such ranks it high in search results. Wikipedia is also the first place people go when they Google your name. By leveraging Wikipedia, you can help control your brand and present yourself to the world.
If you do not already know the stats behind Wikipedia, here are a few that should consider if you are thinking of creating a Wikipedia page: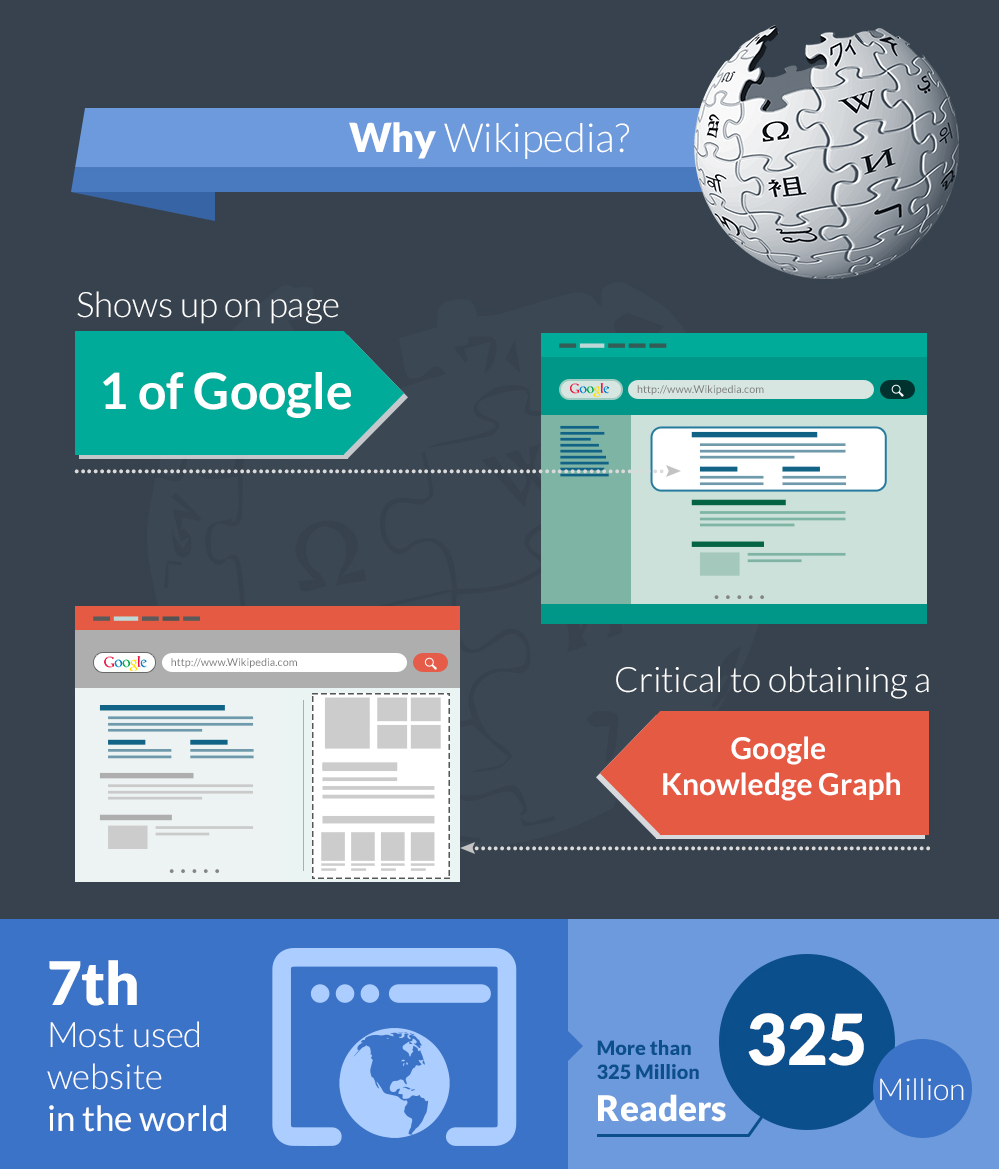 Do you need to hire someone to create your Wikipedia page?
Simple answer is "no." Wikipedia is an open source community and anyone can edit for free. Simply go to the site and begin editing (you don't even need to create an account). However, there are a few things to keep in mind such as guidelines on references, tone, formatting, and more.

The guidelines that have been created over the years make it nearly impossible for a newbie to edit Wikipedia, let alone create an article. The editors who currently volunteer on Wikipedia are looking for any reason to delete articles and chastise you for trying to edit.
Creating pages on Wikipedia is also time consuming and difficult to learn. As such, it is sometimes easier for you to pay a professional Wikipedia editor to create and/or update your page.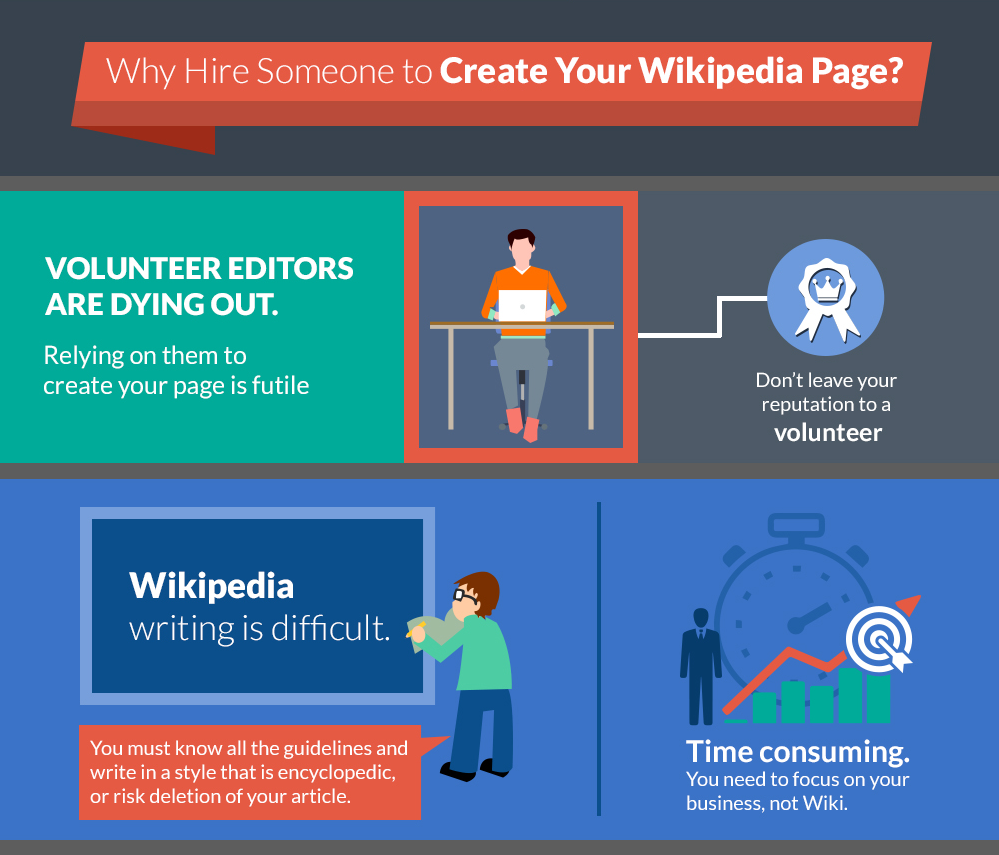 Why choose us to write your Wikipedia article?
There are many Wikipedia editing services you could hire. However, there are many "paid" editors and very few "professional" editors. And yes, there is a big difference between the two.
We do more than simply write your Wikipedia page. We advise you on the entire process and ensure write your page to adhere to Wikipedia guidelines. We also make sure to use the proper format and referencing so your page will be compliant with Wikipedia standards.
Here is why I am qualified:
9+ years experience with Wikipedia editing.
We understand Wikipedia guidelines and how articles must be written to conform to such.
Over 80,000 edits and 1,000s of articles created.

We only take on notable clients

. If we give you a bid for your project, you should know that you are notable. If you are not, we will tell you so.
We use only independent and reliable sources to show the notability of your article.
Knowledge of copyright issues with Wikipedia (We are able to submit your images to Wikipedia in compliance with guidelines).
We have created Wikipedia pages for many notable people and businesses including Fortune 500 companies, professional athletes, politicians, musicians, actors and filmmakers, and authors just to name a few.
We have been trusted by thousands to manage their Wikipedia needs.
We even wrote the book on Wikipedia marketing (Wikipedia as a Marketing Tool).
For your protection – WILL NEVER DISCLOSE MY CLIENTS – we never disclose our clients in order to protect their anonymity.
Here is what we can do for your Wikipedia page:
Create information boxes which showcase your logo, photo, and/or general information about your brand.
Create subheadings applicable to the topic (e.g. History, External Links).
Add your website link within the page.
Continuous monitoring of the Wikipedia article to help protect that the content from trolls (Page monitoring is a separate charge outside of page creation).
Include images of products, people, and anything else related to the article (you must supply images).
Link your Wikipedia article to other Wikipedia articles to build up the popularity of the page.
If your article is already created, ensure that everything within the article is neutral, including any negative information that someone may have posted about you.

Here is what  we will NOT do for your Wikipedia page:
Create a SPAM article that is not notable and publish it on Wikipedia in the "hope" that it does not get deleted.
Attack a Wikipedia page of your competitor. That is between you and them. If their page is not notable, then recommend it for deletion, but we will not get in the middle of your disputes.
Include promotional wording in your article. This is not only against Wikipedia guidelines, but will also likely cause your article to be tagged as promotional and worse yet…….recommended  for deletion.
Put information in the article that we cannot tie to a reliable source. If you want us to add something to your article, make sure there is a source to support it.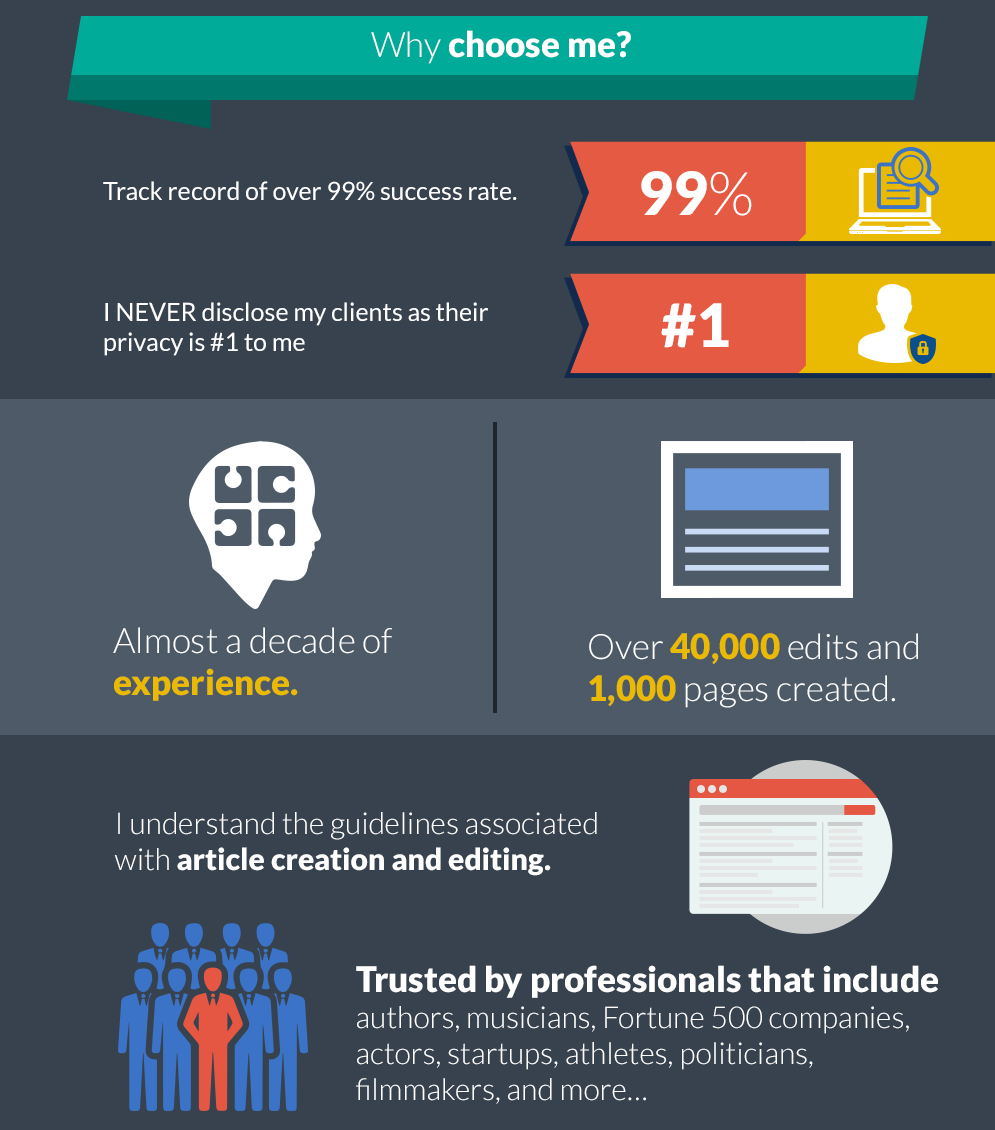 What services do we offer besides Wikipedia page creation?
In addition to Wikipedia article creation, we provide monitoring and translation.
The cost for Wikipedia monitoring/maintenance is normally $1,200 per page per year and includes unlimited updates and notification to you within 24 hours of any change that takes place to the page (note that prices vary depending on anticipated workload with the page).
Page translation varies depending on the length of the content, but averages $400-$800 per page per language. Please contact me for an accurate quote on translations.

Legalmorning is a private consultancy, offering services related to Wikipedia. Legalmorning does not work for and is not affiliated with the Wikimedia Foundation.