So you have decided to create a Wikipedia page and, because you don't know where to start, you need to hire a Wikipedia content writer. Therefore, you'll want to get bids for the best price to do the job. It may seem normal to reach out and start the bidding process with numerous firms. This is commonplace in the field of marketing, but there are a few things you should know when looking to find the best cost for Wikipedia page creation.
Wikipedia is not cookie-cutter. There is no template you can use for projects so each one must be evaluated and worked on independently. As such, there is no fixed price for Wikipedia pages. If you find a company that offers a fixed price for all pages, chances are they are not experienced enough to work on your project.
Here is why.
Each Wikipedia page has unique attributes that need to be evaluated prior to providing you with an exact quote.
Some pages are longer while others are shorter. Length can determine the amount of work involved, but that is only one of the factors.
Another point that needs to be considered is prior attempts at creating a page. It is more difficult to create a page that has been deleted in the past. Quoting you the same price for a new page versus a page that has previously been deleted is foolish for a professional company such as ours, as one project will be more difficult than the other.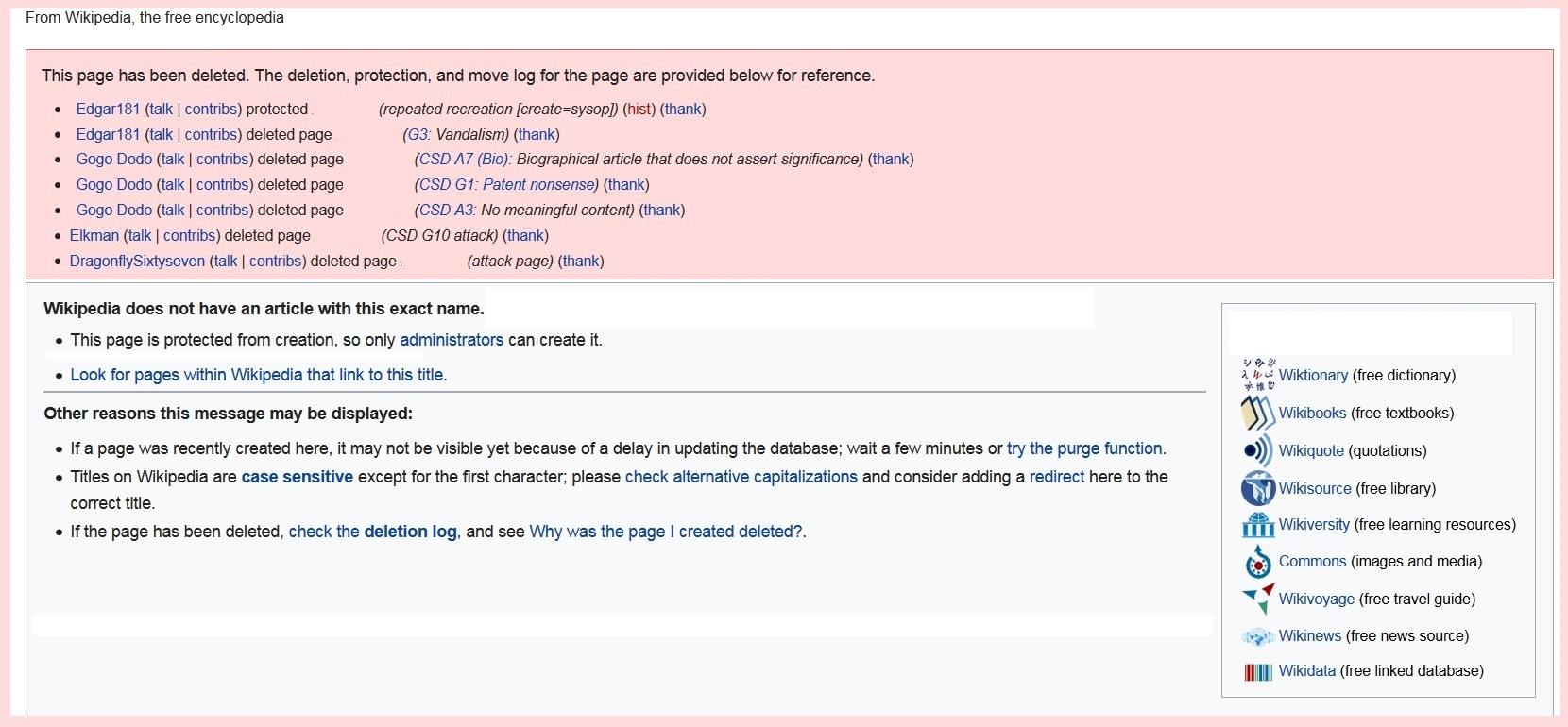 We also need to consider the topic itself. Some topics are easier to publish on Wikipedia, such as biographies versus company pages. Pages within a topic (let's say biographies) can also differ; for example, writing a Wikipedia article on a professor versus someone in a controversial category (pseudoscience practitioners, etc.).
So, each page is different and needs to be evaluated as such. That's why we only provide a range of pricing prior to knowing the exact topic.
Without being able to provide an exact quote up front, how can someone determine the best Wikipedia content writer to use? Well, here are a few things that can help you decide.
Choose Quality Over Price
Cheaper is not necessarily better. Any Wikipedia content writer will offer a different quality and price is associated with it. This means that you are likely to find cheap providers on freelance sites such as Upwork, but many of them lack the experience and know-how to get your project done correctly.
Wikipedia page creation is a niche profession that takes precision. It is also a profession that pays well if you are able to do the job correctly. Freelancers have seen this and flooded the market in an attempt to take on the work.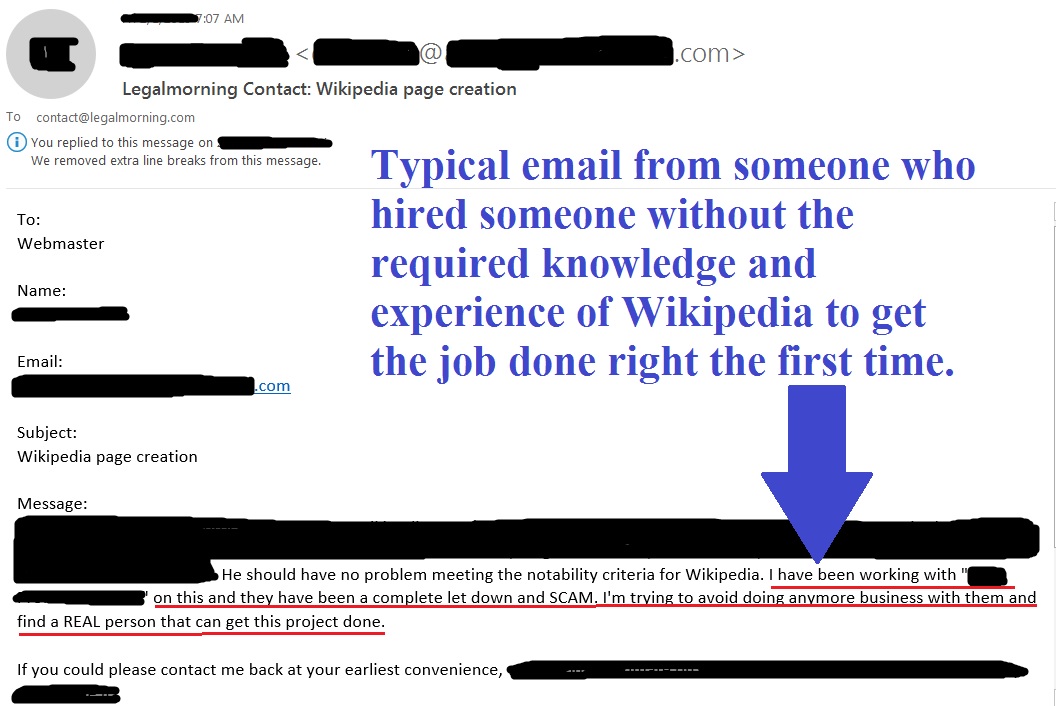 The problem is that many of these freelancers do not have the expertise to complete the project without issues. They are quick to offer you a lower price, but it could wind up costing you more than you think.
You may end up paying twice. The first time to a cheap freelancer, the second time to a professional Wikipedia content writer who will need to clean up the issues caused from the first freelancer. Therefore, it is better to pay for quality the first time round so you don't have to worry about having issues with the page down the road.
If not done right the first time, it can be more difficult to work on to clean up.
Choose a Wikipedia page creation service with the experience to get your project done correctly from the beginning.
Some Competitors Are Not Ethical
So, here is a situation that you can run into when it comes to the bidding process. People are generally good, but there are some that are simply unethical. The Wikipedia editing profession is not immune to them.
I have at least two competitors who are likely to destroy work of others if they are not awarded a project. This happens when someone reaches out to multiple providers for a quote. The project is awarded to someone else and the one who does not get the project later goes into Wikipedia in an attempt to destroy the work.
Remember that anyone can edit Wikipedia. So, while the competitor likely cannot completely destroy the project, they can make trouble for you later on.
If you have asked for bids through a freelance website like Upwork, you could also potentially expose your project. In fact, some editors are jealous if the project is awarded to someone else and like to retaliate once they see the article go live. Others are editors from Wikipedia who hate conflict of interest editing. These editors will destroy your article simply because you were looking for help.

With that in mind, we can still work on projects even if you have disclosed it to competitors. We just need to know in advance so we can choose the best strategy for moving forward with a successful project.
Next thing you have to consider is examples of prior work.
Examples of Prior Work
Yes, it is common to ask providers for prior examples of their work. However, it does not quite work that way when it comes to Wikipedia and there are a number of reasons why.
First and foremost, Wikipedia hates paid editing. When I first became a professional Wikipedia editor, I received a dozen or so emails from people looking to see examples of my work. At the time, I was more than happy to present them.
What happened once I provided the examples?
Not what I expected. The emails were actually from Wikipedia editors who were looking to sabotage the work I had done. Within a few days, dozens of pages for my clients had been deleted or vandalized. I learned from that experience to never disclose my work to anyone who asks.
While I do not disclose prior pages I have worked on, I do provide you with pages that your project will resemble (if asked). You can also provide me with links to Wikipedia articles that you like and I will evaluate if we are able to do something similar with your project.
Finally, don't be fooled if a Wikipedia editing service does provide you with samples of their work. All Wikipedia content writers are in the same boat and anyone who does show you examples is NOT showing you examples of "their" work.
I have come across times where providers simply send you links to Wikipedia pages. They do this to avoid the question of why they won't provide examples. We like to start off on a good foot with our clients. So, answering all your questions is important, even if they are tough questions such as this.
So How Do You Determine the Cost?
Now that I scared you with the potential pitfalls of bidding out your Wikipedia project, you're probably wondering how you can ever get a quote for creating a Wikipedia page. Well, there are a few best practices that can help.
First, determine the agency that you want to use before getting a quote. Do your research online, read reviews, and decide who you feel is the best for the job. That way, you narrow it down to a few that you would likely have used anyways. No matter if you requested bids from a dozen different agencies.
Since cost is always a factor, you can get a general ballpark of cost without disclosing the name of your project. Most providers list a range of pricing on their website. This will give you a ballpark figure to know if it is something that is within your budget. If not, there's no sense in reaching out to that firm.
Requiring a non-disclosure agreement (NDA) is ideal, but not all providers will do it just to provide a quote. Once you know the provider you want to use, you can then reach out and let them know you want to move forward. However, make sure they are aware that you would like to do so with a NDA. On a side note, we require NDAs of all clients we work with in order to protect their anonymity.
Final Thoughts on the Bidding Process
When it comes to Wikipedia, you want to get it right the first time. If you hire an inexperienced Wikipedia content writer, you could wind up paying twice and having issues with the page down the road.
Be careful not to disclose the details of your project until you have narrowed down the agency you want to use. Choose quality over price as Wikipedia can be frustrating for people trying to create a page.

So, to sum it up:
Research Wikipedia editing firms and narrow it down to a few providers based on their reputation and experience.
Get a general price range so you know which ones are within your budget.
Hire the Wikipedia expert within your budget who you feel will do the best job based on your research.
If you would like a quote for Wikipedia services, you can obtain a free page evaluation by completing our online form. Or, you can always contact us for a paid telephone consultation.