Previously, I have talked at length about the difference between a professional Wikipedia writer and someone who simply gets paid to edit Wikipedia.
Yes, there is a difference. As a professional, I turn down the majority of client inquiries for creating Wikipedia pages. The most common reason is there are not enough references for them to qualify for a page.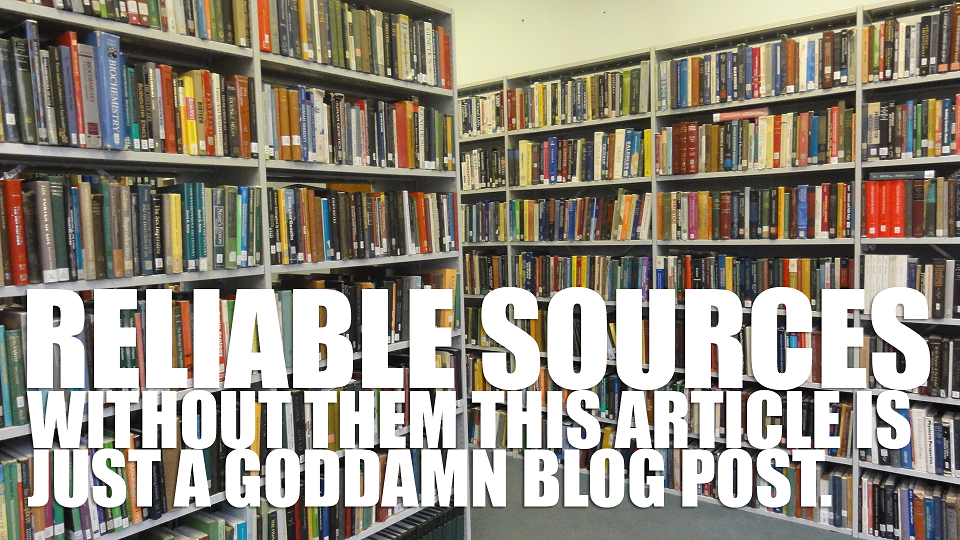 After advising someone the topic doesn't meet notability guidelines based on not having enough sources, the next question that arises is, "how many references do I need?"
While this seems like a reasonable question, it is really difficult to answer due to the complexity of Wikipedia.
There are no real set rules with Wikipedia, only policies and guidelines. It is not a cookie-cutter website as many think.
What Basic Notability Guidelines Say About References
I talk a lot about notability guidelines for Wikipedia. For those not familiar with how you qualify for Wikipedia, notability guidelines are the place to start.
Basically, notability is all about the sources. What do media outlets say about you and do they talk about you enough to warrant you having your own Wikipedia page?
Here is what Wikipedia says about notability and references:
"If a topic has received significant coverage in reliable sources that are independent of the subject, it is presumed to be suitable for a stand-alone article or list." – Wikipedia general notability guidelines
So what does that mean about the number of sources?
Wikipedia guidelines say that sources need to be secondary. It also means that there is no set number of sources required, although generally people have determined that "multiple" sources are needed.
How many are multiple?
Well, more than one and less than infinity. Multiple has been determined differently but some pages have been deemed notable with as little as two in-depth references, while others with more have not.
Quality is one of the most important things about the number of sources. The more "reliable" the source, the fewer references you will likely need to establish notability.
By this I mean that an article in The Wall Street Journal accompanied by one in The New York Times can do more for you than several articles in publications such as Salon, The Atlantic, and Entrepreneur.
So what determines what sources are reliable?
What Types of Publications are Considered Reliable Enough for Wikipedia?
Wikipedia can be confusing when it talks about what sources are considered reliable. While we could talk for days about sources, you generally need to look at the type of source (whether it is a book, magazine, newspaper, blog, etc.), the writer, and the actual publisher.
Here is why it matters.
A book is generally considered a good source, but if it is self-published, it likely will not be considered reliable enough to establish notability.
A publication such as Entrepreneur is considered reliable, but if the writer is a contributor where there is no editorial control, the piece will not be considered reliable enough to establish notability.

Generally, I tell people that you need to have coverage in the type of news media that most of the general public feels is reliable. While this is not a hard-and-fast rule for Wikipedia, it does give you an idea of what you look for.
Do most people see shows like 60 Minutes reliable? Then you have likely found a good source. How about The Los Angeles Times? While we may not always agree with the stories they run, most people find them reliable.
Once you find sources that come from these publications, you now need to see if they are in-depth enough to qualify.
In-depth? Yes, we need to show that the coverage in these sources is more than just a passing mention.
Passing Mentions Versus In-Depth Coverage
I cover this a little more in my guide to Wikipedia notability, but in order to have a reference that qualifies you for Wikipedia, it must focus on the topic and not just mention it in passing.
That doesn't mean that the article focuses on the topic 100%, but it does need to talk about it in detail. When it comes to companies qualifying for Wikipedia pages, this is one of the most difficult things to show.
In-depth coverage means that things such as general announcements, routine coverage of philanthropy or company expansion just don't cut it. The source must get into the nuts and bolts of the topic in order to qualify.
What can be confusing here is that references that do not qualify for notability can still be used for referencing content on Wikipedia.
Wait, what?
That's right. There are sources that may talk about the subject with a passing mention. While that source may not qualify to show notability, it can still be used within a Wikipedia page.
This confuses some people as they see these references in an article and think that having a ton of these would qualify them for a Wikipedia page. This is not necessarily so.
So, let's assume that the topic you want to create a Wikipedia page for has the significant coverage in reliable sources. Does that mean you can create the page and it won't be deleted? Not exactly. As I said, Wikipedia can be complex.
It's All Subjective and Based on the Topic
Different topics seem to require a different number of references. For instance, a company with two in-depth references in reliable sources may be dismissed as not being notable, while a person with two lesser in-depth news articles could pass guidelines with flying colors.
When looking to answer the question about the number of references needed for notability, you need to check individual topic guidelines.
Here is an example:
Schools have a very low threshold for notability. Having a single reference from a reliable source that shows the school exists will establish notability. This doesn't apply to all schools though.
Another example is creating biographies of living people. If you are a musician, having a charted single and reference to support it would likely be enough to qualify you for Wikipedia. Being a professor with a chair named after you would also qualify you, even if the sources are not in-depth as I stated above.
Companies are some of the toughest pages to create on Wikipedia. Editors see them as being promotional so they judge the "significant" coverage as being more than two in-depth sources.
Wikipedia editors go even further into the source to determine if it is likely an editorial piece or native advertising. So while a professor would qualify with a single source verifying they have a named chair, a company may require a half dozen or more in-depth sources.
This is what I mean when I say there are no set rules in Wikipedia. It is simply guidelines and policies, and the interpretation of them becomes subjective to individual editors involved in policy or deletion discussions.
Basically, even if you have the right "number" of sources according to guidelines, it still may not keep your page from being deleted. It comes down to individual editors and how they decide to interpret those guidelines.
Why Others Are On Wikipedia Despite Not Qualifying
After reading everything above, the first thing that pops in your mind is the Wikipedia page of your competitor. After all, they have very little coverage yet they have had a Wikipedia page for years.
So why don't you qualify?
Very simple, the page you see is likely violating guidelines but no one has gotten around to deleting it yet. This rule is referred to as "other stuff exists."
Also, remember that the interpretation of the guidelines are subjective based on editors who vote in deletion discussions. Some interpret them one way while the rest interpret them the opposite. This means that similar pages may wind up with different results when recommended for deletion.
I have seen some pages with few in-depth references that have passed numerous attempts at deletion. I have also seen others with many in-depth sources that have been deleted. This is the very reason why I never offer a guarantee about Wikipedia. Any Wikipedia content writer offering such is clueless and probably shouldn't be hired in the first place.
Final Word on Wikipedia References
At this point I have either cleared things up for you or made you even more confused. Either way, I am more than happy to evaluate if your topic qualifies for a Wikipedia page. Simply give me the details about your project and myself and my team will let you know if you qualify.