I receive a lot of questions about the "articles for creation process" on Wikipedia. Most of the queries involve how to get a draft approved through the AfC process. Many people come to me after they have already received a denial and are looking for advice on how to resubmit and ensure approval.
Well, there really is no guarantee that ANY Wikipedia draft will get approved. Wikipedia is a finicky website with so many pitfalls and it can be very frustrating when trying to create a page. However, there are some best practices that you can use to help get you through the process and your draft approved.
First, I want to remind you that the articles for creation process is not a real "approval" process. There is a lot of confusion as to what an actual "approval" means. Articles for creation is simply a peer review of your draft. Its like a second opinion to determine if it meets Wikipedia guidelines. An "approval" through this process does not guarantee your Wikipedia article won't be deleted in the future.
With that in mind, let's take a look at how to get a Wikipedia page approved through articles for creation.
Copyediting is Important
Some people don't think copyediting is important. These are the people who also hire a cheap writer from Upwork who fails to use proper grammar or English is their second or third language. I can tell you from experience that Wikipedia editors reviewing drafts will not give you the time of day if they have to struggle to read it.
Use a website like Grammarly or have a second person review the draft. Fix any errors related to spelling and grammar prior to submission. Also use shorter sentences and avoid run-on sentences.
An editor who has a difficult time getting through the first couple of sentences of your submission will be more likely to decline it as they don't feel like struggling through the rest of it.
Less Information is Always Better
When it comes to getting a Wikipedia page approved, having less information is better. Here is why.
Editors reviewing submissions through AfC are just looking for an excuse to decline them. So, if you put a ton of information in your submission, you are giving them more ammunition to use against you. Longer pages are often declined because they are:
Too promotional – meaning the editor reviewing feels there is so much information that it promotes the subject of the article.
Citation issues – longer pages either do not have enough references or the citations used are not considered reliable sources under Wikipedia guidelines.
Conflict of interest issues – if the submission has a lot of information, editors sometimes feel the writer is closely connected to the subject and will often select a BS reason to decline it.
Now, don't let the above translate into a common fallacy. Some people try to submit stub articles and then add a lot of content once they are "approved." Remember that "approval" through AfC does not mean the article is safe from future deletion. If you try to add a bunch of promotional material after it is approved, don't be surprised when the article gets riddled with maintenance tags or recommended for deletion.
Use ONLY Reliable Sources
You have no idea how important this one is. Editors on Wikipedia will glance first at the references at the bottom of a submission. If they see references that are not reliable under the guidelines, they will simply decline the submission without fully reading the content.
The most common sources that will get your draft declined include:
Wikipedia – never use Wikipedia as a source for Wikipedia. Even Wikipedia admits it is not a reliable source and using it will certainly bring scrutiny to your draft submission.
Press Releases – while press releases may come from reliable sources, they are not independent of the topic. Anyone can issue a press release and put information in that they wish to have on Wikipedia. If press releases were allowed, anyone could have a Wikipedia page that says anything they want.
Subject's Own Website – the official website of the topic should never be used. For instance, if you are creating a biography, do not use the website of the person you are writing about. This is considered a self-published source and as unreliable as a press release since there is no editorial oversight.
Social Media – as with press releases and the subject's personal website, social media can be manipulated. If social media was allowed as a reference, anyone could write and post something on Facebook about themselves and then use it as a reference on Wikipedia. Guidelines limit the use of social media sources for that very reason.
So, if you want to get a Wikipedia page approved, stick to good sources like mainstream media.
Use Only the References Necessary
Keeping with the reference theme, make sure to include ONLY those references necessary to show the notability of the topic. If you use too many references, you will be accused of "notability bombing", which is the practice of including too many references in an attempt to mask the notability of a topic.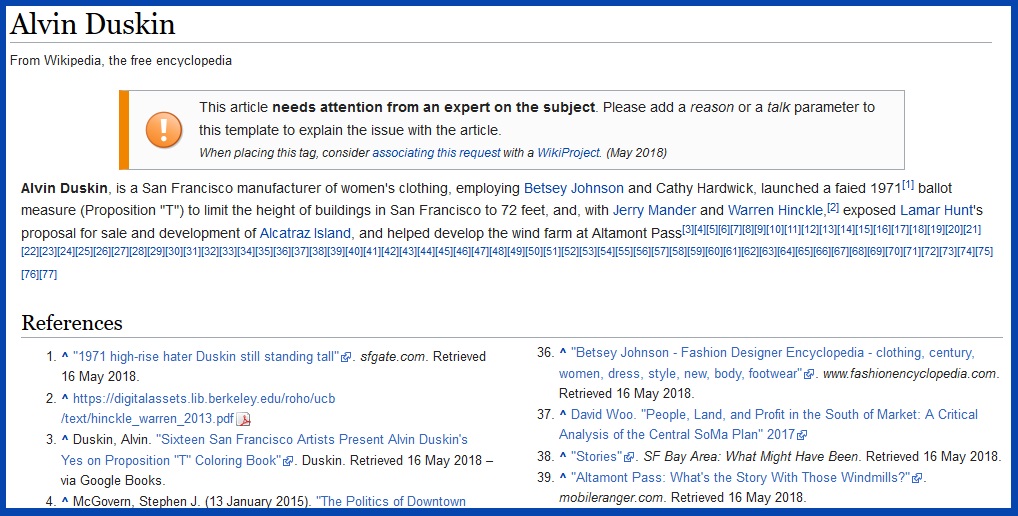 The above is an example of reference bombing. This article has 77 references to support less than 100 words of content. This is an extreme example as even two citations for the same sentence can be too many.
Sometimes a topic is less than notable so people will include a ton of references to try to make it look notable. Wikipedia editors are not stupid and see right through this tactic. Therefore, include as few references as you need to support the content and not a single one more.
Don't Include Original Research
What is original research?
Original research is defined by Wikipedia as "material – such as facts, allegations, and ideas – for which no reliable, published sources exist."
Wikipedia relies on what reliable secondary sources say about a topic. Original research happens when someone introduces content into a Wikipedia article that is NOT in a secondary reliable source. Original research often takes the form of synthesis which is when editors use partial information from different sources to create new information that is not in the source.
Here is an example that Wikipedia gives on original research and synthesis: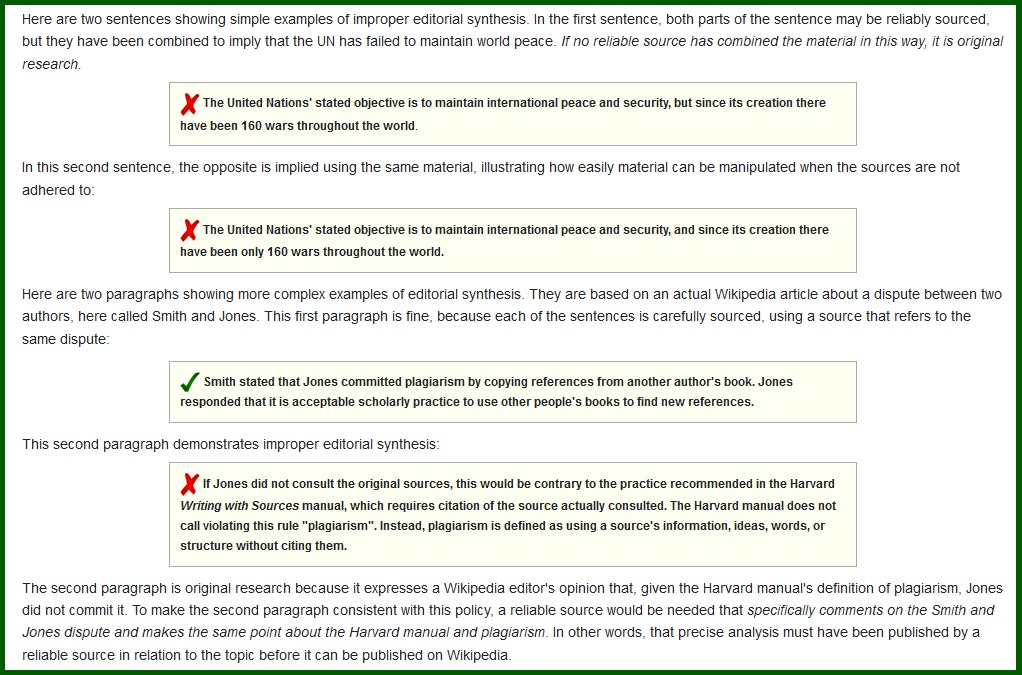 Remember; only state what is written in the reliable source. Even if something is logical or obvious, it MUST be stated in the source in order to be included in the draft. Using synthesis is a great way to get your article declined through the articles for creation process.
Remove Anything that can be Considered Promotional
Promotional tone is another common reason for a draft being declined through AfC. If you want to get a Wikipedia article approved, you will need to eliminate all promotional content.
However, promotional content is sometimes defined differently by Wikipedia than in the real world. It is also subjective and, unfortunately, we have to rely on the reviewer's definition of promotion. Keep that in mind when writing your draft.
Your content doesn't need to contain advertising copy such as "buy now" or reviews to be considered promotional. Simply talking positively about a subject can sometimes be considered promotional.
For a better understanding, you can refer to our guide on why your Wikipedia page is considered promotional.
Final Thoughts on Getting Through Articles for Creation
There is no such thing as a perfect Wikipedia article or a perfect draft. Wikipedia editors know this and do cut a little slack when reviewing articles for creation. However, even with a little leeway, you need to make sure your draft incorporates some best practices to help speed up the approval process.
Make sure to stay away from over-promotion and use only reliable sources. Also keep the draft short with only the required content to get approved. While there are many other things that make a good draft, the ones detailed herein will put you further ahead than the majority submitted to Wikipedia.
Finally, always remember that an "approval" through articles for creation is not a blanket approval. This means that your article can still be deleted in the future. Articles for creation is simply a peer review tool and not an automatic guarantee that the article will always remain live in Wikipedia.
If you are having issues with a draft you submitted or would like to have a review of your draft prior to submission, contact us for a quote.