Thinking of starting a link building strategy? Already have a strategy but it's not working? Maybe it's time to re-evaluate the type of backlinks you are getting.
The way Google looks at backlinks has changed drastically over the years. Backlinks are still a major ranking signal with Google, but no longer are two links weighed the same.
When looking at a link building strategy, you need to consider the quantity of links, the quality of each, and how relevant they are in comparison to the content.
Quantity – How Many Backlinks Do You Need?
And the answer is … no one really knows.
But one thing is agreed upon by the SEO community – the number of backlinks is not as important as relevancy or quality (more on those later).
There was a time when quantity was the main driving force behind any link building strategy. Since Google has been a backlink-driven search engine since day one, it only made sense to show its algorithm that thousands of websites linked to your site.
Along came black-hat SEO techniques that included using link farms and paying for backlinks. People created spam content and tried to use it as link juice to influence search results.
What they failed to realize is that Google is sitting on billions of dollars and they regularly invest that money into improving search results. After all, if people stop using Google because it is not returning relevant results, Google starts to lose revenue.
Google has updated its search algorithms over the years and now focuses on quality over quantity. Spammers who built countless irrelevant backlinks to their sites have been penalized and wiped out of search results.
Backlinks are still a driving force in determining search results, but the quantity of links is no longer a dominant factor.
In fact, some people have claimed they can rank on page one of Google without backlinks. While it is possible, it's very rare and I don't advise anyone to try it.
Don't confuse traffic that comes from other SEO efforts as "ranking without backlinks." You can increase your search presence with methods such as ensuring proper keywords and other meta data, but thinking you can consistently rank without backlinks is ridiculous.
While the odds of ranking well without backlinks are not good, it has been shown that you don't need thousands of links to climb in search results. In fact, I have many articles on my blog that rank well with very few backlinks.
A properly optimized article with a few relevant backlinks will rank higher than a poorly written article with hundreds of backlinks.
So what is a relevant backlink? Glad you asked!
Relevancy – The Power of Having Relevant Backlinks
I am a strong believer that relevant links have more juice than quality links. Having quality links that are also relevant are a marketer's goldmine.
So what exactly is a "relevant link?"
A relevant link is one that comes from a website that talks about the topic.
Here is an example:
Let's say you are reading an article about backlinks. It wouldn't be relevant if it links out to a website about cosmetics.
This used to be the way to build backlinks (discussed earlier). Build as many links as you can and their relevancy really didn't matter. Well, times have changed and relevancy is now taken into consideration for ranking.
When linking out from your website, make sure you link to relevant content. When others link to you, make sure that the link is relevant. If not, don't plan on showing up high in search results.
Some SEO experts feel that you need to link from the exact same niche in which the link is directed (backlink from a food website should link to a topic about food). While this is largely the case, it doesn't always hold true.
While relevance is niche driven, it is also topic driven.
Here is an example:
Let's say someone is writing about website designs. The topic of the article is the "top 10 website designs." Including links to sites that have nothing to do with website design is fine as long as it is within topic. If you link to a site on cosmetics as you are talking about its website layout, then the link is still relevant and Google will see it as such.
Focus on more niche relevant links, but don't be scared to have topic related links.
There are marketers who use relevance as a way to determine quality, but I separate them completely. After reading all of this, some of you are probably thinking the same. Let me explain the difference so you can see how they work hand in hand.
Quality Backlinks for Your Link Building Strategy
You will read many people talking about "quality backlinks." But, what exactly does that mean?
Different SEO professionals have different definitions. Me? I combine them all together as I believe that there are a number of things that determine quality.
Here are some of the things that determine quality:
Domain Authority
Page Authority
Uniqueness
Link Attributes
Trust Factor (Trust Rank)
Domain Authority (DA)
Having a backlink from a website with high domain authority will give you more power than a backlink from a website with a lower domain authority. Here is why:
There are a number of factors that go into determining domain authority, including trust factor. In the end, the score determines how well a website will rank in a search engine. The higher the number, the higher it will likely rank. In the graphic below you can see that Forbes.com has one of the highest at 96/100 which makes it a sought after publication by marketers.

So, a backlink from a high DA website means that you are getting a backlink from a very powerful site. Google sees this link and gives you more credit as it feels that a high DA website would only link to quality information.
Page Authority
While domain authority ranks a website, page authority ranks pages within that website.
Here is an example:
This post on Entrepreneur.com ranks on page one of Google for the term "Business Quotes."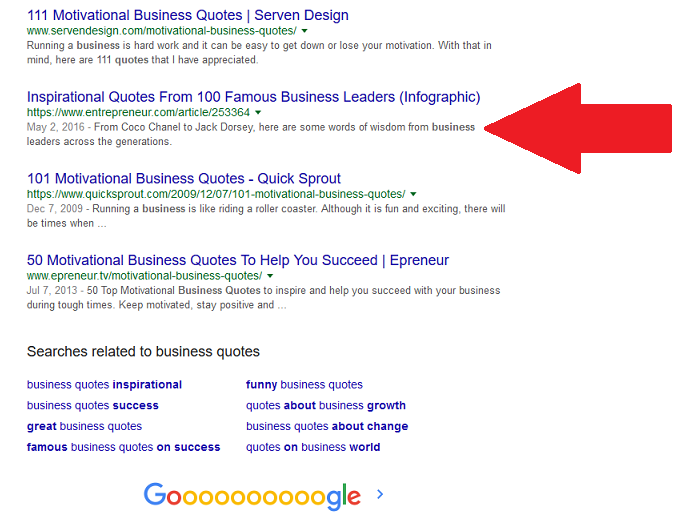 Since Entrepreneur.com has a high DA, you would think that anything related to "business quotes" from that site would rank high in Google. However, you would be wrong and here is why:
Page authority shows which pages rank high within a website. Here are the search results for "business quotes" on Entrepeneur.com. You will see there are many, but only the top one ranks on page one of Google.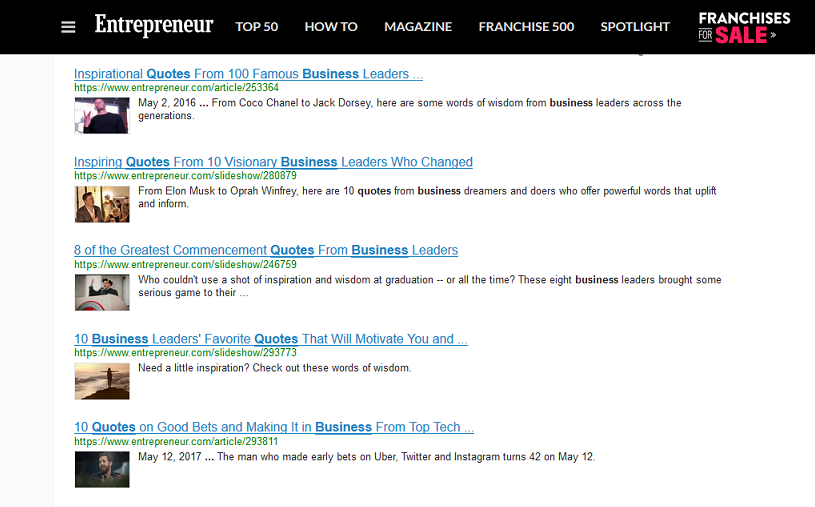 There are a number of things that affect page authority. The most common are:-
time on page – how long people are there reading the content;
links to that specific page – people find it useful so they link to it more than the others;
page views – how many visitors to that page;
and shares – yes, social media shares.
It is the only article from Entrepreneur.com that ranks on page one.
So, it is obvious from the results that one particular article in Entrepreneur.com gets more link juice than others on the same topic. If you were allowed to have a backlink from any of those pages, which one would you choose?
Uniqueness
How important is your link to the website linking to you? Is it one of many leading to the same or similar information or is yours the ultimate authority being used by that website?
This is what I call uniqueness. Having a link from someone's resource page is good, but it is one of many links to similar topics. Not very unique.
Someone writing about backlinks may use this article (the one you are reading) as a backlink. If they are talking about the quality of links and don't link to any of my competitors, I would consider the link unique.
Now, don't be discouraged if your link is not unique. I consider uniqueness one of the least looked at factors. So, just consider it a bonus if your link is considered unique.
Link Attributes
There are two link attributes that you need to know when engaging in any link building strategy: Dofollow and Nofollow.
The "follow" attribute basically tells Google if it should count that link for search ranking. If the backlink is nofollow, it basically tells Google to disregard the link.
Does that mean you should chase all dofollow links? Absolutely not.
If you build all dofollow links, Google will recognize that you are link building. Prepare for a penalty if you do so. Mixing in a number of nofollow links in your strategy will create a diverse link profile which is needed if you plan to outrank your competitor.
Trust Factor
Trust factor is basically how trustworthy a website is. This is determined by who links to the site.
For instance, if a website is linked to from a bunch of low level blogs, don't expect it to have a high trust factor. If it has links from sites that have inherent trust, the trust factor will be higher.
How do you determine trust factor?
This question is simple to answer. If you are using a website as a reference in an article you write, what websites do you use the most (or avoid the most). Then ask yourself why?
Me, I link to sites like Entrepreneur.com, Forbes.com, Moz.com, Backlinko, etc. These are sites that are trusted as they are known to have great content. Because so many people link to them and use them as references, Google sees them as having a high trust factor.
If you want to put a number to trust factor, there are two places I recommend visiting. The first is Majestic and the other is Moz. For those who like to qualify things with numbers, both of these sites have metrics to help make it reality.
Additional Factors
There are other factors to keep in mind as well. Does the site you want to link from have a penalty? Does it show up high in search results?
The more positive factors you can apply to the backlink will make it considered the higher quality.
So Which One is Better – Quantity, Relevancy, or Quality?
Having more backlinks than your competitor does not mean you will rank higher. Having relevant links from quality websites will.
While I like to focus on quality, I feel that relevance is even more important.
Why?
Quality backlinks are great, but relevant links are even better. If you are able to get quality backlinks that are also relevant, then you are going to jump to the top in search results.
So many black-hat SEOs are trying to build links to high domain authority websites without taking relevance into account. They equate high domain authority with quality which isn't necessarily the case.
Focus your link building strategies on relevance as well as quality. Also keep in mind that backlinks have more juice when you practice other techniques such as using proper keywords and link diversity.
In the end, don't focus on fooling search results. Link building is an art, not an assembly line. Those who do it properly will rank high for a long time. Those who don't will fade so far back in search results that even Google won't find them.
Now that you know the method behind the madness, it's time to start thinking about developing your link building strategy. Learn the methods used by experts to build high quality and relevant links in my book Link Juice.