When I first started editing Wikipedia it didn't take me long to figure out not everyone on the website plays nice (or fair). It happened quite quickly and still does with newer editors to the site. People are often met with harsh tones and berating due to Wikipedia's toxic editing environment.
Clients often contact me and say they are having a difficult time with a particular editor. And, despite following Wikipedia guidelines, the editor continues to remove content that has been added to an article.
You are probably wondering (and this is the first thing I check) if the clients are actually following Wikipedia guidelines, or if the toxic editor they are dealing with is removing content despite that. Well, most times it is due to not adhering to guidelines, but there are often times when the client is correct.
So how are some editors allowed to get away with violating rules while others are not?
What is an Unblockable Editor on Wikipedia?
According to Wikipedia, an unblockable is an editor who does something in violation of Wikipedia rules, gets blocked for it, and then gets unblocked by an admin quickly; with little, if any, admonition. The unblocking admin often admits that the user violated the rules, but that their contribution to the site outweighs their violation.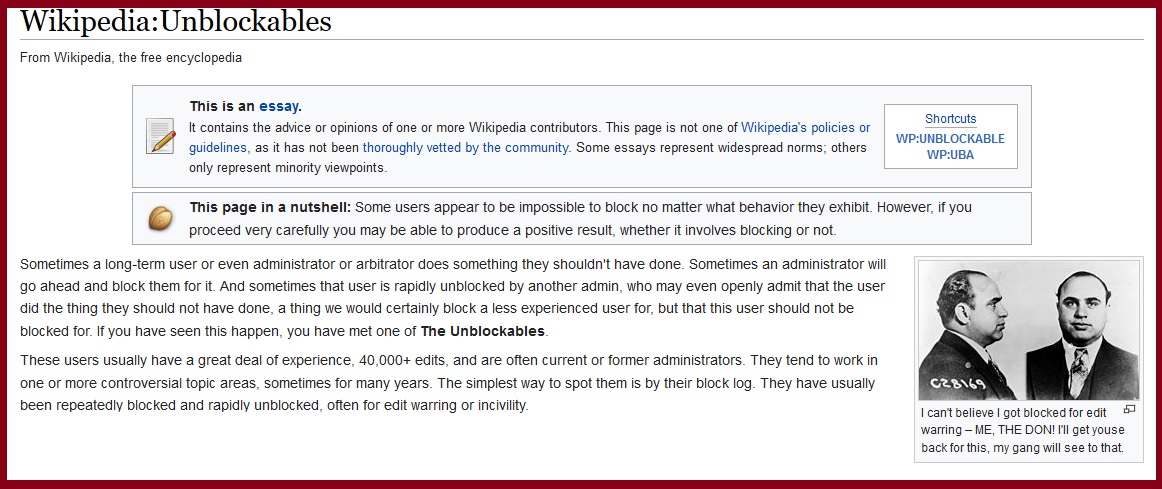 So basically, an experienced editor who is liked by the community becomes almost immune to being blocked for their behavior. This is dangerous because they often edit in contentious articles and chase away other editors because they don't agree with their point of view.
It is also unfair as other editors are often blocked for similar (or often less egregious behavior) and must abide by their punishment, while an unblockable is allowed to roam free causing trouble in Wikipedia.
A few good examples include:
Calton – I have discussed this user before, and since that time they have still been blocked and unblocked for the same offenses. Their block log shows dozens of blocks, mainly for civility, and then unblocking shortly thereafter.
Jytdog – This was one of my all-time favorites and even has a long thread on Wikipediocracy. Their block log doesn't show a lot of blocks because they always avoided them by leaving Wikipedia prior to getting banned. However, the most recent offense was so egregious they were unable to avoid it. They contacted someone off-Wiki by telephone who they had a disagreement with – something they also did with me several years ago. They even requested that Arbcom let them come back to Wikipedia after being gone a year. If it goes as it usually does, they will be unblocked and right back to causing problems again at Wikipedia.
David Gerard – Sometimes unblockables aren't even blocked in the first place. Here is an example of where someone with an anti-crypto currency stance is allowed to run around Wikipedia establishing their personal point of view on the subject. Despite the off-Wiki and on-Wiki complaints about the conflict of interest, they are still editing crypto currency topics freely with little oversight. In fact, this person is an administrator, so they become even more difficult to block.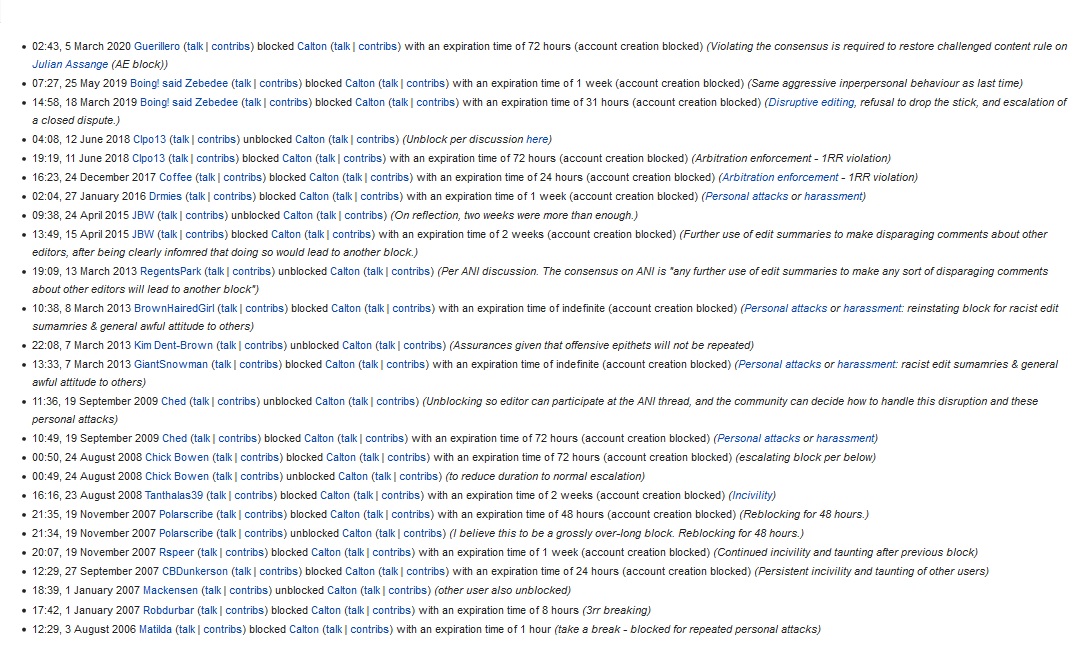 There are dozens more that I can bring up but there's a good chance you are already familiar with them (probably the reason you are here in the first place).
Now, let's discuss how unblockables are able to get away with toxic editing and expressing their personal points of view with little, if any, oversight.
Wikipedia is Run by Consensus
Consensus. The term that makes Wikipedia go around. Obtaining consensus is one of the keys to open source collaboration as people need to agree on things prior to implementing them. Otherwise, there will just be chaos and nothing will get done.
Sounds pretty simple. Common sense will tell you that consensus is just getting everyone (at least most people) on the same page and come to an agreement on what should/shouldn't be written in Wikipedia.
Well, not so fast. As with everything in Wikipedia, consensus isn't so simple.
One of the most important parts of Wikipedia's definition of consensus to pay attention to is as follows:
"Consensus on Wikipedia does not mean unanimity, which is ideal but not always achievable, neither is it the result of a vote."
That little caveat allows for a mob mentality to take over and allows a group of editors who want to control a specific narrative to have their way.
"As long as I count the Votes, what are you going to do about it?" —  William M. "Boss" Tweed
Lord of the Flies Mentality Takes Hold
For those not familiar with the Lord of the Flies, it is a 1954 novel that was turned in to several movies and became a study in mob rule. It is about kids who were stranded on an island and they attempted to self-govern. Unfortunately, it results in disaster with people deciding to do what they wanted, regardless of what was good for the community as a whole.
This type of mob mentality often takes place with Wikipedia articles. A few editors get together and have a similar personal point of view on an article.
When you try to change something based on a reliable source, it gets reverted for whatever reason they decided. If there isn't a valid policy reason, it often comes down to an "I don't like it" argument. All of the mob agree and you are out of luck regardless of what you do.
This becomes very frustrating and often causes people to give up. But don't! There are many other things that can be done to help, such as going to noticeboards and getting help from Wikiprojects.
Unblockable Editors and Civility
Now that you see how editors can get away with violating guidelines for their own benefit, you should also expect an issue with civility. You will come across editors who accuse you of having a conflict of interest or being a "newbie" because they don't want to address the actual content issue you brought up.
There is no way around this. Wikipedia editors act superior and want you to know that they are in charge. It's the same as the mob mentality described above and God forbid you challenge their authority.
When this happens, don't attack back. Stay calm, as doing anything inflammatory only makes things worse and may lead to being blocked, or protection being placed on the article so you are not allowed to edit at all.
So, what can you do when there is a toxic and likely unblockable editor you are having a problem with?
Overcoming Problem Editors
Now that I have scared you and made you believe that it is impossible to beat editors such as these, there is a bright side. They can and have been beaten.
In order to do so, you need to be precise in your attack while still adhering to Wikipedia guidelines. Over the years, I have learned the editing behaviors of various editors and know what they like to see and what they don't like to see. I know there is a way they like the wording of specific edits, sections they do and don't like to see, and the sources they consider reliable and unreliable.
It's like surgery. Every Wikipedia article is different and every editor you go up against is different. It's important to evaluate their edit history and know what types of edits they are likely to revert. You need to know who exactly is watching the article and likely to jump in to assist in the mob mentality. It is a difficult process and one you can only master if you have been monitoring these editors' behaviors for years.
Outside of editing the page directly or using the talk page, you can also elicit help from certain Wikiprojects or asking on noticeboards specific to editor behavior. However, make sure you are careful in how you approach this method as it can often result in more issues if you state your complaint in a way that makes editors feel inferior or like they're being attacked.
The good news is we know who they are and how to perform the operation with success. After all, it's part of what we get paid to do.
Final Thoughts
Yes, Wikipedia is frustrating. Even with guidelines, editors don't always follow them. It can be difficult to get something edited if you don't have thousands of edits and years of experience on the site. Mob mentality rules and it can be difficult to work with editors, especially on a topic that can be highly controversial.
Make sure to stay calm and be patient. Use noticeboards if necessary and you can always reach out for a consultation if you are running into issues you feel cannot be overcome.