I am one of the most vocal critics of the Wikimedia Foundation, the non-profit organization behind numerous projects that include Wikipedia. Recently I wrote an article about the fundraising activities of the Wikimedia Foundation and how they threaten to run advertising if people do not donate to their cause. My contention has always been that Wikipedia will never run advertising, despite the message that they will use the donations they receive to help fund the online encyclopedia "ad free" for another year. As stated before, do not be fooled by their idiocy.
Wikipedia is constantly flying a banner near the top of its pages that asks people to donate to their cause to fund servers, staff and programs. However, they are not necessarily funded in the order. In fact, from the graph below, you can see that approximately 50% of its 2011-2012 budget was spent on staffing. This number is only for salaries and do not include travel expenses (6%) or volunteer & staff development (3%). This does not seem like outrageous spending as it claims to be one of the top 5 websites in the world (which it is). What people fail to understand and the Wikimedia Foundation hopes people never come to their senses about is that the majority of the work for the Foundation is done by volunteers.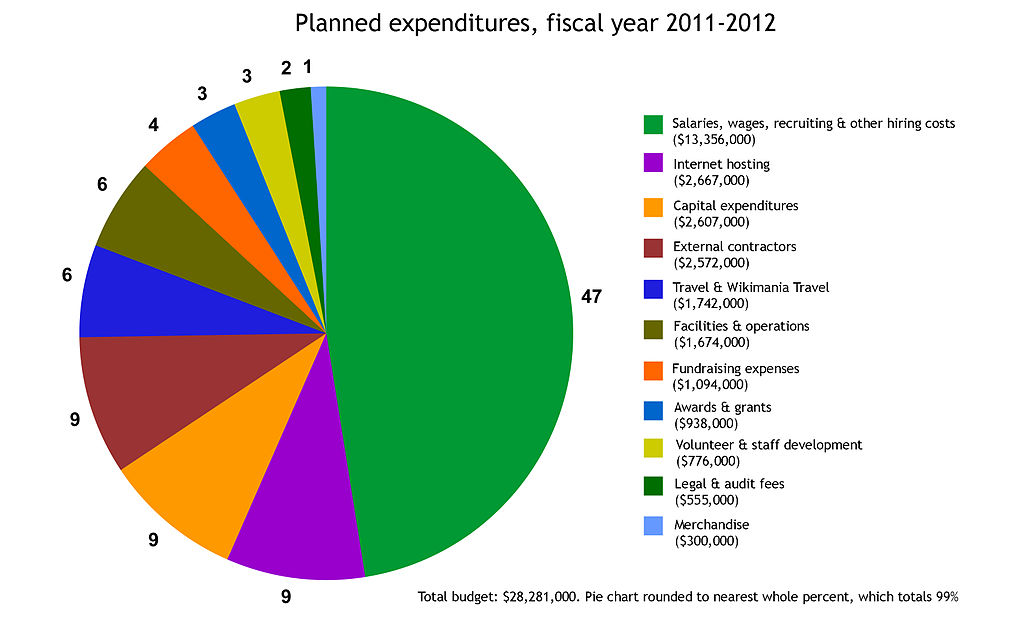 How much money does the Wikimedia Foundation have?
The Register recently ran an article about the finances of the Wikimedia Foundation, pointing out that the Foundation is sitting on $60 million (that's $60,000,000 for those who like to see the zeros). Author Andrew Orlowski points out that the Foundation is spending $19 million on salaries. This is approximately $5 million more than it spent on salaries for staff in 2011-2012. The great part about the entire article is that it coincides with the Foundations most recent campaign of raising funds on the site.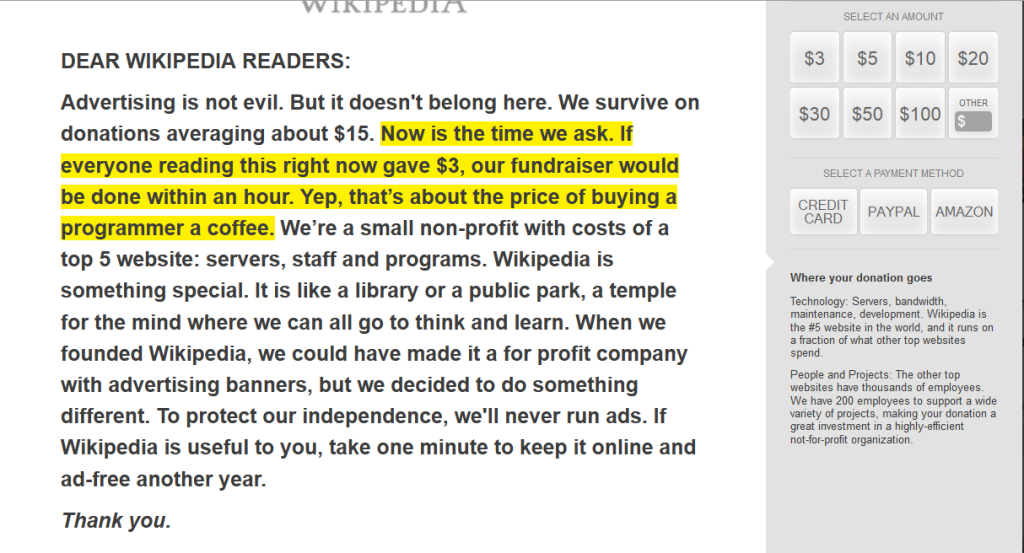 I am on Wikipedia daily as part of my profession and instead of seeing a small banner at the top of the site, I now see a banner that takes up everything above the fold. Users now have to click on the large banner as well as the small banner in order to close them before they can enjoy information on Wikipedia. To me, I feel like these banners are about as bad as The Examiner, which looks like the old Atari game Asteroids with all the pop up ads.
Where the money goes:
Besides a handful of professional editors, like myself, who are independent and not association with the Wikimedia Foundation, Wikipedia is managed by volunteer editors, administrators, and various other editors who rank somewhere in the hierarchy of the site. They work hard to keep the website up to date, but spend quite a bit of their time policing the site for vandalism or edits that do not coincide with their point of view. Regardless, the Foundation representing that they need more money is a joke.
In 2013, outgoing Wikimedia Foundation Executive Director Sue Gardner was critical of the way the Foundation was spending its money, stating that less of the Foundation's money should be spent on programs for local chapters. Local programs? Exactly. A portion of donations are used to fund projects that are proposed by Wikipedia editors, including Foundation employees, individuals, non-profit organizations, and any company that is good enough to submit a proposal through the Foundation's simple application process. What type of programs you ask? Well, let's take a look at a few that were funded with the donations that the Foundation continues to beg for:
1. Travel & Participation Grants – Money provided to Wikipedia editors for travel and accommodations to represent the Wikimedia Foundation ("ambassadors") at various functions throughout the world. Here is a list of current and previously funded projects.
2. Individual Engagement Grants – Given to individuals and teams who propose projects that support the Foundation's mission. An example is Wikipedia's "Visual Editor," a funded proposal that was a huge failure. Follow this link for a list of known problems with the project. For a list of current Individual Engagement Grants being considered, follow this link.
3. Project and Event Grants – This is Wikimedia's way of giving your donation to other non-profit organizations, individuals, and companies who proposed projects are "mission-aligned" with the Foundation. One such project was sending two Wikipedia editors to the funeral of Nelson Mandela. Success of the project? Well, according to the report, they were able to "[capture] photographs, two videos and wrote an article for Wikinews." Not taking away from the situation, but I am sure that the AP and hundreds of other qualified media outlets were able to take quite a few more photos, many more videos, and wrote hundreds of more articles than these two Wikipedians (and it didn't cost the Foundation a dime for the AP to do its job). I'm thinking about submitting my proposal to document this year's Super Bowl. After all, there are pictures and videos that could be contributed to Wikipedia and I will even bring my own camera. Here is a list of funded and non-funded projects if you are still interested in how the Wikimedia Foundation wastes your donation.
4. Annual Plan Grants – The final way your donation is spent. I'm getting tired of typing and no one cares anyway. If you are interested, you can find out more at this link.
No one really cares:
The statement that no one really cares is not exactly true as there are many like me who see the Foundation sitting on a ton of cash and still begging as if they are broke. To me, it looks like a beggar on a street corner who drives away in a Mercedes after a day of collecting money from people who feel sorry for them (no, I'm not cold hearted – there are needy people – focus on the point). Since the article ran in the Register on December 1, 2014, no other publication has picked up the story. However, recent stories like Putin moving forward with a government run Wikipedia-type site in Russia and Chrome turning Wikipedia into a viewable galaxy have been picked up by dozens of publications. I am not sure why (I have my ideas) but you will have to draw a conclusion for yourself as to why no one else is brave enough to out the Foundation.
So, next time you are thinking about donating to the Foundation, or any non-profit for that matter, do a little research to find out how much money they really need, have, and what it will be spent on. You may find out that your donation is going to something completely different than what you intended, or is simply helping a foundation flourish into a large bureaucracy that is not needed to accomplish its goals.
by Michael Wood – Michael Wood is an online marketing expert and owner of Legalmorning.com. He specializes in reputation and brand management, article writing, and professional Wikipedia editing. He is an expert Wikipedia editor and has helped hundreds of businesses and people post their articles to the site where they have otherwise failed. He is a regular contributor to many online publications including AllBusiness Experts, Yahoo, Business Insider, Business2Community, and Social Media Today. Wood is not employed or affiliated with the Wikimedia Foundation or any of its projects.