It's always a good time to revisit your marketing strategy; especially when it comes to Wikipedia. If you are reading this article, chances are you have already tried and failed at creating a Wikipedia page for yourself, your company, or possibly even a client.
Starting new is great, but if it doesn't work out you need to understand where you went wrong the first time before you make that next attempt at creating a page.
I have been a professional Wikipedia editor for almost a decade. No, I don't get paid by Wikipedia and I have no affiliation with the Wikimedia Foundation. I am one of a handful of companies that know how to create Wikipedia pages that don't get deleted and have made a profession out of it.
In order to help assist you with creating Wikipedia page, I have compiled some of the most common pitfalls that people have run into when creating Wikipedia pages. This is derived from the experience of clients reaching out to me for help after the fact.
Here are the seven most common of these pitfalls. Take them for what they are worth and hopefully you can avoid them. If not, you are sure to run into failure.
1. Starting with Content, Not With References
I get a few emails each week from people who tell me they have already written their Wikipedia article and it was either deleted or declined for not having proper sources. When I review their draft, it quickly becomes apparent that they started off backwards when creating their page.
Many people will write a Wikipedia draft and then go to find references to back it up. They will include their website, a few press releases, and maybe even a link to an award they won. However, these references do not actually support the information that is in the draft.
"Wikipedia's articles are intended as intelligent summaries and reflections of current published knowledge within the relevant fields, an overview of the relevant literature." – Wikipedia.org, essay on verifiability
Wikipedia is based on information obtained from reliable secondary sources. If you write first, then look for sources, you are starting from the wrong place. You need to start with the sources, then summarize what those sources say about the topic.
2. Adding Information You Want, Not What the References Say
Many people try to include information in their Wikipedia page that is not supported by reliable sources. For instance, someone may want to say they graduated from university in 2005 but the references say they graduated in 2006. Adding 2005 is NOT using information from the source.
When you add content to Wikipedia that is not supported by a reliable source, you run into a few problems. The first is that you are violating guidelines by adding unsourced content. The other is that you will be seen as an editor with a conflict of interest since you must be close to the subject if you know information that is not available in sources.
Let me make this simple:
Wikipedia doesn't care what you have to say. Wikipedia doesn't care what I want to say. It only cares about what reliable secondary sources have to say.
3. Using Wikipedia for Promotion
I wrote a book called Using Wikipedia as a Marketing Tool. Some people take that to mean that Wikipedia can be used for promotion. Far from it.
Yes, Wikipedia can be used for marketing as long as it is for branding. Using Wikipedia for promotional purposes is frowned upon and will get you blocked (and potentially also prevent others from creating the topic you are trying to write about).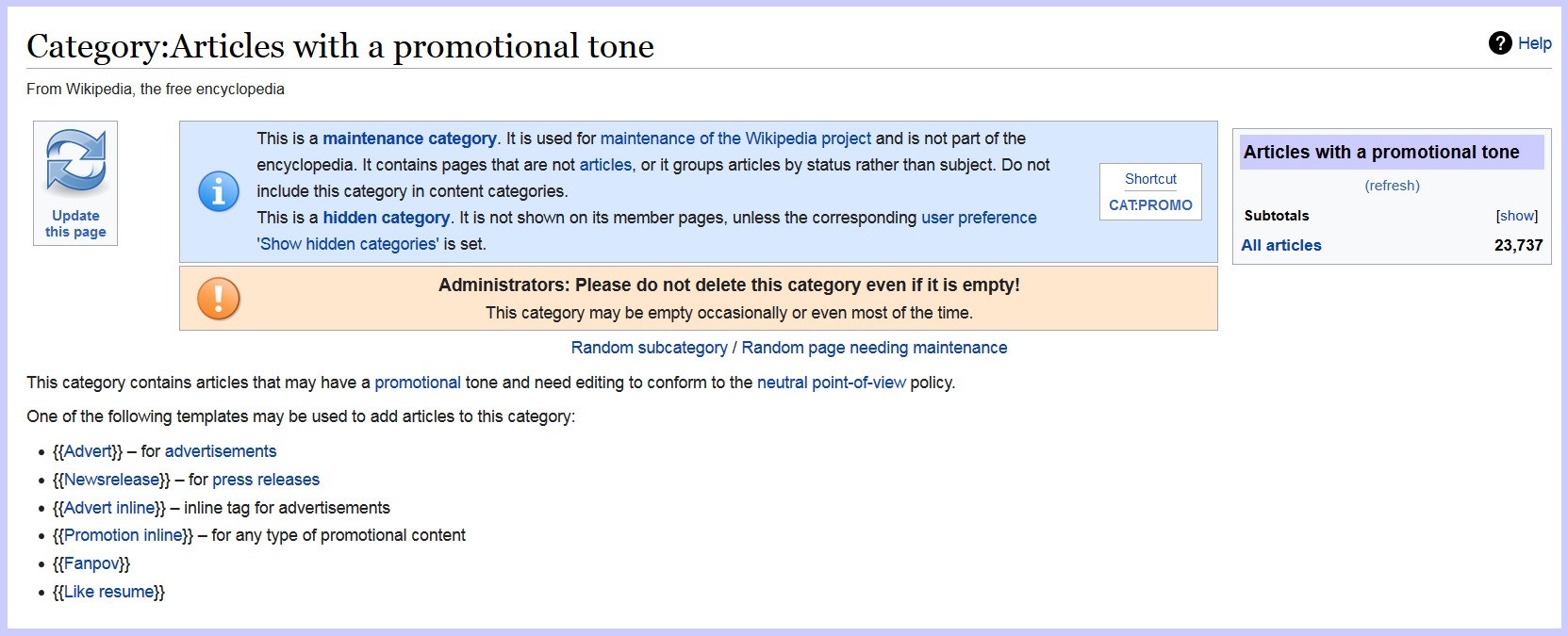 If done correctly, you can have a Wikipedia entry that is basic facts that states who you are and what you do. If you create the page for the purpose of expanding the encyclopedia's mission, you will get a marketing benefit of branding.
You cannot go to Wikipedia for the sole purpose of marketing. As stated in the book, the branding benefit is the outcome of you furthering the encyclopedia's mission, not the other way around.
So, create a simple entry, don't use promotional words or tone, and leave out information that no one really cares about, such as minor awards and accomplishments. It's not a resume, it's an encyclopedia!
4. Not Using Reliable Sources
I get some people who tell me they created a page with "plenty" of reliable sources. Unfortunately, that often means they created a page with a large "quantity" of sources and not necessarily "quality" sources.
With Wikipedia, it is not about the number of sources you have. It all comes down to the quality of the sources. They must be reliable or they cannot be used. Simple as that.
What makes a source reliable?
It would take me a year to answer that question. In fact, Wikipedia has an entire noticeboard set up to answer that question about individual references.
What constitutes a reliable source is subjective. In fact, there isn't a list of common sources that I can provide you with as they change based on the writer, and the type of information being written about.
Here is an example:
Forbes is considered a reliable source; however, pieces written by Forbes contributors are generally only used for their opinions, not facts. There are so many rules about reliable sources that it can be very difficult to decide which sources to use.
A general rule of thumb is to look at the fact-checking criteria for the source you want to quote. Do they have an editorial team that does fact-checking? If so, the source is likely reliable. If it is a self-published source or there is no editorial oversight, you are likely barking up the wrong tree.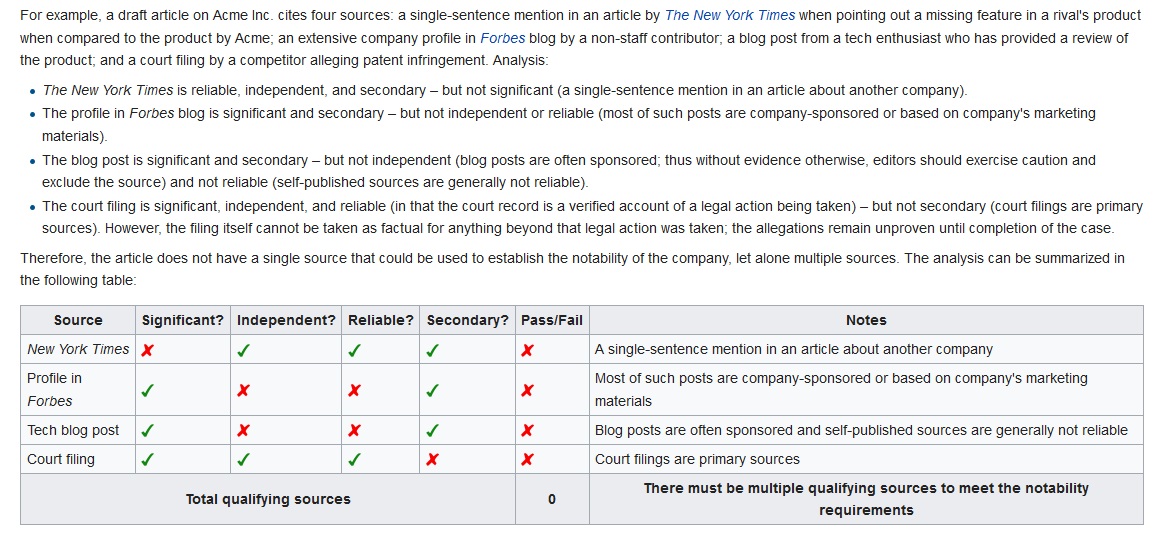 Above is a screenshot of Wikipedia rules governing sourcing for company page notability. You can see that while some sources seem reliable, they still may not meet certain criteria which will make them useless to establishing notability.
With that in mind, I can definitely tell you what is NOT a reliable source.
Wikipedia doesn't care about press releases, your personal website, or anything that is published in a blog or forum. Stick with main stream media sources that have editorial oversight.
If you are still unsure, consult the Wikipedia reliable source noticeboard. It is better to know up front than get your page deleted or rejected for using a source that isn't considered reliable.
5. Original Research is Not Welcome on Wikipedia
Wikipedia is a summary of what is said in reliable secondary sources. You have heard me say that before and I will likely say it again. With that in mind, original research does not have a place in Wikipedia.
So what is original research?
Original research is the addition of information into Wikipedia that does not already exist. It is similar to what I covered above with adding information you want (not what is in references). The difference here is that original research is completely new information.
Original research often creates a phenomenon known as SYNTH. Quite simply, this means to synthesize two or more sources to give the impression of something different.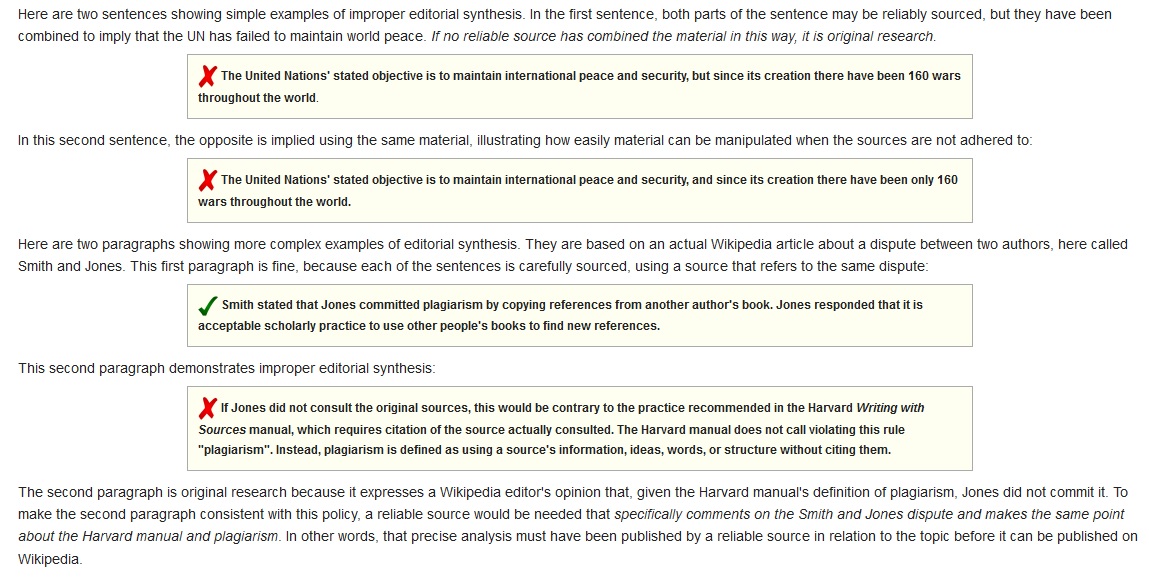 I will spare you my writing about it more as Wikipedia has already put together some great examples which I have shared above. Just remember you cannot create new information by putting old information together. It basically insinuates something about a subject that may or may not be true. That is not what Wikipedia is about.
6. Creating Wikipedia Pages That Aren't Notable
The term I hear all the time is "let's do it and see if it sticks." People are simply referring to trying to create a Wikipedia page despite it not meeting notability guidelines.
My simple answer to them is, "NO!" Just don't do it.
Some people try to post new articles on Wikipedia even though they don't meet the guidelines. They do this in hopes of no one noticing. They hope the page stays live and isn't deleted despite it not meeting the minimum threshold for notability.

The problem with this is simple. It games the system and always comes back to bite them.
The page will eventually be deleted. When this happens, it becomes even more difficult to create it again in the future. In fact, the more times it is deleted, the more difficult it becomes. It could even get to the point where only an administrator can create the page.
I tell people that Wikipedia is not the Holy Grail and they need to focus on things like media outreach and backlinks if they do not qualify for Wikipedia. Use your marketing dollars wisely as you could pay to have a Wikipedia page that is not only deleted but blocked from being created in the future.
A great essay to read on Wikipedia is "No One Cares About Your Garage Band." This sums up everything I am saying in this section.
7. Copyright Issues
Once again, Wikipedia is a summary of what the sources say about a topic. That means a "summary," not a copy and paste of the actual writing.
Too many people confuse the two and submit content to Wikipedia that violates copyright law. Wikipedia will not only remove this content, but also erase the history of it from record so that it cannot be viewed.
Wikipedia takes copyright very seriously. Unless you can show that you have permission to use the exact text from the source, you need to summarize what the source says.
If there is a copyright issue with a page you create, don't be surprised when it is deleted. You may also wind up with your user account being blocked. Don't say I didn't warn you.
Final Thought
I realize that Wikipedia can be difficult, especially if you are not familiar with all of the guidelines. The main advice I can give you from my experience is to obtain all the knowledge you can about the process prior to diving in. Too many people try and fail before doing so, and it only gets more difficult the more time your page is deleted or declined.
Take note of these mistakes that people make when creating Wikipedia pages, and try to avoid them at all costs. They lead to failure every single time. Follow the rules of the site and create pages that meet guidelines and adhere to content rules.
If you are still having trouble submitting or creating your Wikipedia page, reach out for a free evaluation.