I recently had a client ask me how to improve (e.g., expand) their stub article on Wikipedia. While I took the time to go over how to improve the article, I couldn't help but wonder why. Why were they wanting to expand their stub article?
It may seem like a simple answer but it's not:-
Sometimes people want to expand a stub because they want to provide more detail about their company or product.
Other times they want to improve their presence in Google search.
On other occasions they feel like a competitor is better represented on Wikipedia.
Last but not least they want to control a narrative for their brand outside what is said in the media.
There are a number of reasons why they may want to expand their stub article but none of them really have a bearing on the benefit you receive from Wikipedia. I will discuss this in more detail later in this article.
I thought I would take the time to explain what a stub article really is and give you some insight into what you can do to improve them.
After reading this post, you'll understand that a stub article isn't about the topic, but the length of an article. You'll also see that it has no bearing on search engine optimization and that sometimes it is better to have a stub article than something more in-depth.
So first, let's take a look at what a stub article really is.
What is a Wikipedia stub article?
Wikipedia defines a stub article as "an article deemed too short to provide encyclopedia coverage." And, while that is a nice definition, it is just like Wikipedia to leave things open for uncertainty.
The definition often causes confusion as it makes it seem like a stub article isn't a full-fledged Wikipedia article. Well, it is, and it isn't. For the purpose of expanding Wikipedia's database of knowledge, it isn't. For marketing purposes, it is (more on that later).
A simpler definition for a stub article is: "a small article."
In fact, that is all a stub article is. A smaller article on Wikipedia that needs to be expanded. They are generally a few sentences to a few paragraphs long and just created as a way to start an article on a specific topic.
TIP – To find all stub articles in Wikipedia, use this link. As of April 2020, there were over 16,000 stub articles in Wikipedia. Keep in mind these are only the pages marked as stubs. There are likely thousands more that have not been classified as such despite still qualifying as stubs.
Lamb Weston Holdings Wikipedia article (see above obtained from Wikipedia in March 2020) is a perfect example of a stub. It has a short lede and then a couple of sentences for its history. You can see at the bottom that it is properly marked as a stub article.
Why do stub articles exist?
As stated previously, they are normally just a start to a topic. An editor sees there is no article on a specific topic so they start one that others can expand.
But, why classify it as such?
Over the years, Wikipedia has developed an elaborate system of assessing articles. They do so as an internal rating to let other editors know the quality of the article. Note, they are not judging the quality of the topic, but the quality of the writing.
The quality scale developed by editors also includes classifications such as "featured articles." These are articles that are high quality and generally don't need any additional information. Basically, they are considered the cream of the crop as far as Wikipedia is concerned.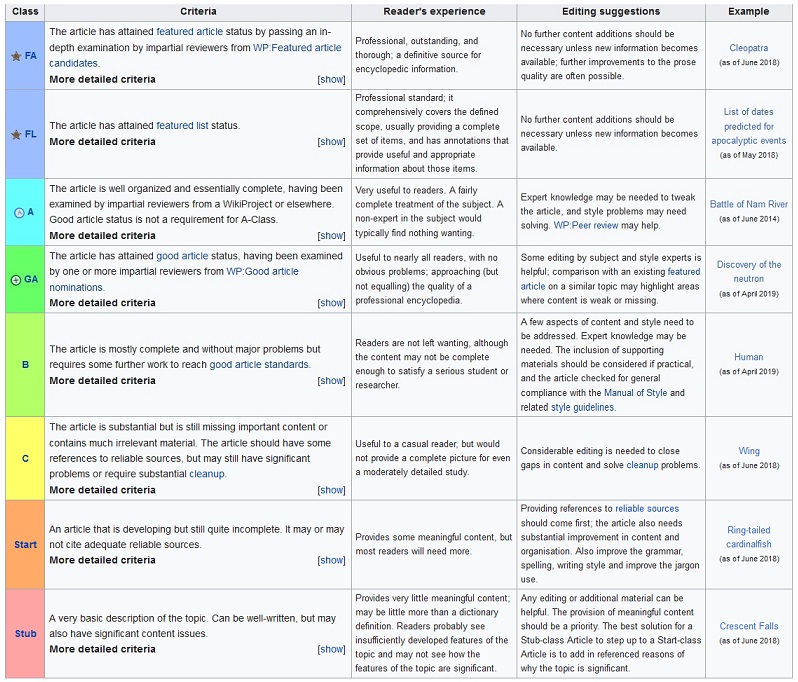 There are also several other classifications which can be seen in the chart above; as obtained from Wikipedia in April 2020.
The main reason the mark exists is to let editors know the article needs expanding. In fact, the tag itself says, "this article is a stub and you can help by expanding it." So, an editor assessing the article as a stub isn't saying that the topic is less important than others. They are simply saying that the content is short and needs expanding.
Can't get much simpler than that.
Who determines what constitutes a stub?
Wikipedia editors do of course. As Wikipedia is an open source community where collaboration is used to create content, it only takes one person to place a stub tag on an article. If someone objects, they are then welcome to remove it and it would be discussed on the talk page of the article until a consensus is reached.
According to Wikipedia, "there is no set size at which an article stops beings a stub." Different editors have different criteria but anything under 500 words is generally considered such.
If you browse stub articles in Wikipedia, you will see that they vary in size. This is normally because the person who placed the tag didn't understand or has a different definition of what a stub article is. Or, someone improved the article and did not remove the tag.
Which also brings up a good point.
Anyone can remove a stub notice from an article if they feel it no longer qualifies. You don't need to be an administrator in order to do so. Just remember, if you remove such a tag and someone disagrees, you could wind up in an edit war and need to get consensus with the community.
So how do you go about improving a stub article?
Improving a Stub Article
Improving a stub article is pretty easy. In fact, all you need to do is expand the content. Sounds easy right? Well, not so fast.
This is where people often wind up getting in trouble. When expanding a stub, you still need to make sure that everything you add adheres to Wikipedia guidelines. You also need to make sure you include a reliable source to support the content. If not, you are likely to get the article flagged and possibly deleted.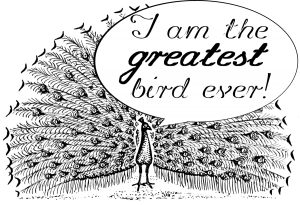 When expanding a stub, make sure to pay careful attention to promotional words. There are certain words that, by their very nature, are considered promotional in Wikipedia. They are referred to as "puffery" and can include things like "leading, notable, respected, best known for, etc." Avoid using these words as it makes the content look promotional.
Also make sure to use reliable sources. If you don't use a source that Wikipedia considers reliable, expect there to be problems. In fact, try adding something without a reference at all and watch the article likely disappear altogether. There are so many things that determine if a source is notable by Wikipedia standards, but as a general rule, stick with mainstream publications such as New York Times, etc.
So, if there is a chance that expanding an article can get it flagged or deleted, why improve it?
Why Improve a Stub Article?
What I am about to say here will sound conflicting with my previous advice, but you do want to expand stub articles in certain circumstances. Here is why.
If a stub article is not a topic that can be expanded beyond its current state, Wikipedia recommends either merging the article into another topic or deleting it altogether.
What you need to ask yourself is if there is enough information in reliable sources to expand the article into something more in-depth. If the answer is "yes," then you are probably safe. If there isn't enough information available, it will likely end up being deleted.
So, while the size of the article doesn't affect SEO or your marketing benefit from Wikipedia, you may want to expand the article just to make sure no one tries to delete it for insufficient context.
With that in mind, sometimes it is better to have a stub article in Wikipedia than one that is expansive.
Why Having a Stub Article is Sometimes Better
I know. I know. You caught me. I just said that you want to expand stub articles while at the same time saying there's no need to expand. Keep in mind there is a reason to expand (in case the article is so insufficient in content that it could get deleted), but there is also a reason to leave the article as a stub.
First, many people try to create an expansive Wikipedia article and wind up getting it tagged as promotional or even deleted because it doesn't follow Wikipedia guidelines. I tell clients that the more information you put in a Wikipedia page, the more likely some rogue editor is going to tag the article for some type of violation.
In fact, I work on a lot of articles submitted through the "articles for creation process" on Wikipedia. Clients will contact me after having a draft declined and my recommendation is to cut the article down to about a tenth of its current size. The less content they provide in the draft, the fewer reasons they give a reviewer for declining the draft.
Also, expanding an article can sometimes wind up getting deleted if the updates make it too promotional. I tell clients that it is better to have a stub Wikipedia article than none at all. So I always advise against promotional edits which would be used to expand the article.
Finally, you may have some things that you don't want to be added to your Wikipedia page. If you are using it for reputation management purposes and try to put too much information in it (especially information that is positive), you are opening the door for others to add the content you don't want.
In summary, less is often better in Wikipedia. If the stub article is not in danger of deletion because there is a lack of available sources, it is often better to leave it alone.
Stub Article Status Has No Bearing on SEO
Search engine optimization (SEO) is one of the benefits of Wikipedia. However, stub article status has nothing to do with how high the article shows up in search results.
If your Wikipedia page is not showing up in Google search results, there are a number of reasons why.
The first is that it may not yet be indexed. Wikipedia has a system of "page patrolling" where pages are marked as reviewed. If it has not been reviewed, then it could take up to 30 days or more for Google to index the page.
Another reason could be that the Wikidata information has not been created. Wikidata is a sister project of Wikipedia and helps with SEO. It is also the main source for the creation of a Google Knowledge Panel.
Therefore, if your Wikipedia page isn't showing high in search results (or not at all), it is NOT because the article is a stub.
Summing it Up
Don't be concerned if your Wikipedia article is a stub. Stub article status just details the length of the article so other Wikipedia editors know it needs expanding. There are many reasons you may want to expand it and others why you don't. Regardless, make sure to adhere to Wikipedia guidelines if you choose to do so.
Finally, remember that there is no correlation between SEO and stub article status. There is no need to expand the article to get better search results.