Whenever its time to re-evaluate your online marketing strategy, you may want to consider adding Wikipedia into the mix. You have probably thought about it in the past, but due to the number of guidelines and differences in writing style, simply decided to pass it up.
Well, now is a great time to take a look at some of the reasons why you should think of including it in your marketing plan.
Wikipedia is a little bit of a different platform as it does not fall into one of the three categories of paid, owned, or earned media. It sort of falls into all three, but sometimes only one of the three.
Huh? Well, take a look.
You can "earn" your spot in Wikipedia should someone decide to right about you; you can "pay" someone to create our page should you decide not to do it yourself; and, you can consider it "owned" because anyone, including you, can edit Wikipedia (although you do not have the ultimate control like you do with other owned media).
"Wikipedia's popularity is obviously a major reason why companies have started using the platform to market their brands."
Don't worry about that for now. Let's look at the benefits so you can decide if it is something you really want to get involved with.
There are many benefits to having a Wikipedia page which I will discuss in detail herein. They include:
Wikipedia for Search Engine Optimization
Branded Searches Through Google
Google Knowledge Panel
Competition Comparison
You may decide after reading this that you don't want to create a Wikipedia page. But I thought I would at least put this article together so you can have all the information needed to make that decision.
You may decide that you want to pursue at part of your marketing strategy. In which case, we can help guide you through the process or even take on the Wikipedia project for you.
So, let's start off by talking about how Wikipedia fits into your search engine optimization plans.
Search Engine Optimization
SEO. One of the most important parts of your job as an online marketer. SEO is the backbone of your website and the method you use to obtain organic traffic and potential customers. Wikipedia is not a direct SEO tool but having a Wikipedia page can benefit your other SEO efforts.
Here is how.
Backlinks are one of the main factors in SEO. Having a backlink from Wikipedia is one of the strongest backlinks available. Wikipedia is considered a great backlink source based on the quality and relevancy of the site.
Now, I don't recommend going to Wikipedia and trying to place a backlink to your website in just any page. Doing so is likely to get your website banned and you may even get blocked from editing.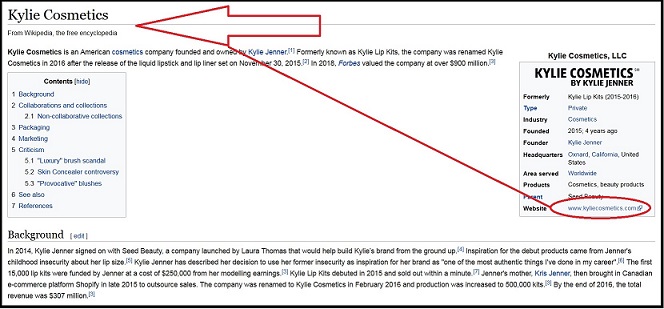 Only add links to branded Wikipedia pages (such as the page for Kylie Cosmetics (above) containing the link to the company's official website). The official website of the topic of each article is acceptable and even encouraged on Wikipedia. Adding backlinks to your site in articles that are NOT about your brand is not.
Wikipedia backlinks are no-follow but do not let that discourage you. Google says that you are allowed to add a no-follow attribute to links, but they never said that they will automatically discount them for the purpose of search results. Many marketers, myself included, believe (and have seen) that no-follow links have authority when it comes to SEO.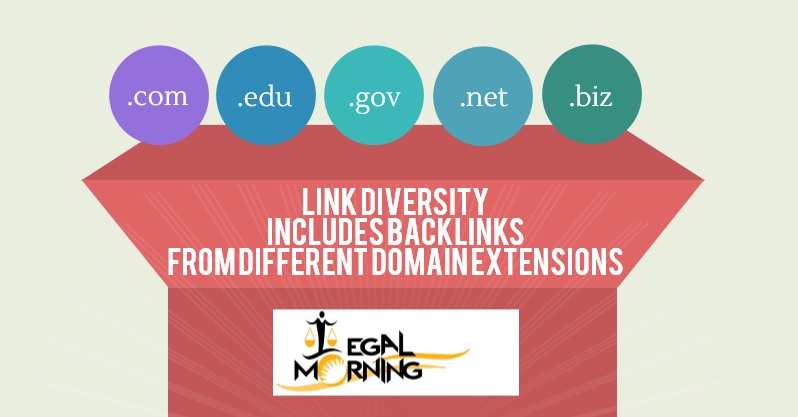 If you don't believe in the power of no-follow links, at least consider link diversity. Having a link from Wikipedia will help you accomplish this goal and generate a diverse link profile which is needed to rank higher in search results.
Wikipedia can also help with SEO of other articles related to you, but not just your own website. Since Wikipedia cites reliable sources, you are giving a backlink to these sources and likely getting them ranked higher in search results. So, positive articles about you that are included in a Wikipedia page are going to rise in the search engines. Since these articles are about you, the link juice you obtain from them is phenomenal.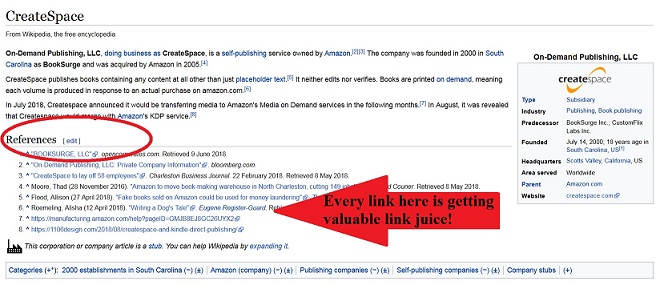 This is also why I recommend not using Wikipedia for reputation management as it can have the opposite effect (having negative articles rise in the search results).
In addition to the link juice you are getting from Wikipedia, the site is also vital in the creation of a Google Knowledge Panel (I will discuss this more later in this article). A Google Knowledge Panel shows your Wikipedia page, website, and social media profiles among other information. It also helps you dominate search results.
Keep in mind that you will need a Wikipedia page if you want to help jump start the creation of a Knowledge Panel.
Now let's talk about branding.
Branded Searches
Google searches related to Wikipedia have changed a lot over the years. In the past, marketers have spammed the site so much that the Wikimedia Foundation decided to change everything on the site to no-follow links.
People also began to spam topics related to their site with their own website link to attempt to rank their site higher in search. Google caught up with this and has since adjusted its algorithm.
Google and Wikipedia have both made adjustments in order to keep out spammers and supply people with the most relevant search results.
So what is the difference between the past and the current?
In the past, you could search for a term such as "consulting agency" and you would get branded pages from Wikipedia related to various consulting firms. For instance, results on the 1st page of Google would likely contain companies such as Bain & Company Wikipedia page for the search term "consulting agency."
A lot has changed since then. Now, when you search for the term "consulting agency," you get the Wikipedia page that defines what a consulting agency is.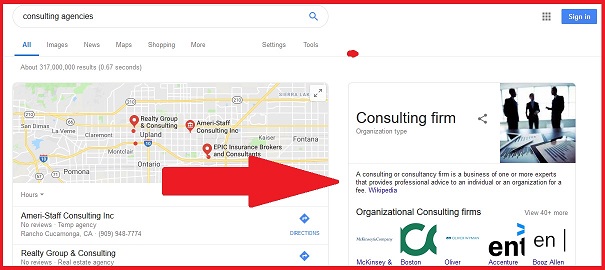 The only time you will get a keyword search to come up with a brand is with a list or comparison page. For instance, if you search "car manufacturer," you will not find Wikipedia results for individual manufacturers, but you will find the Wikipedia article "list of automobile manufactures."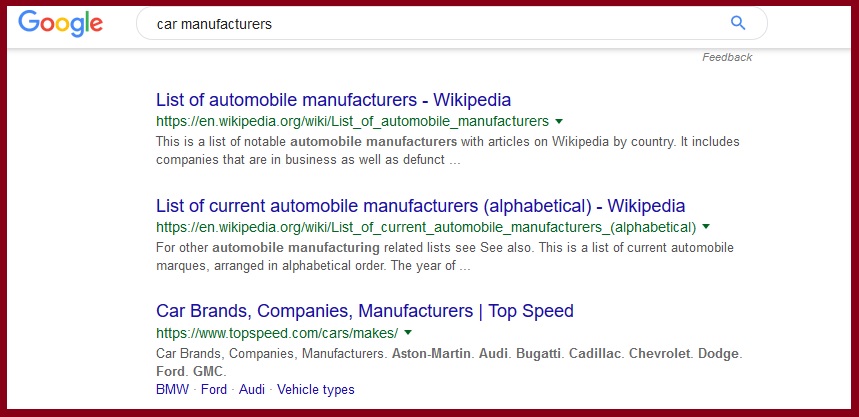 What is important is that you now get branded searches. When people search Google for specific brands, Wikipedia shows up on the front page for that brand. For instance, when you search for "Bain & Company," you will see the official website of Bain & Company followed by the Wikipedia page on the company.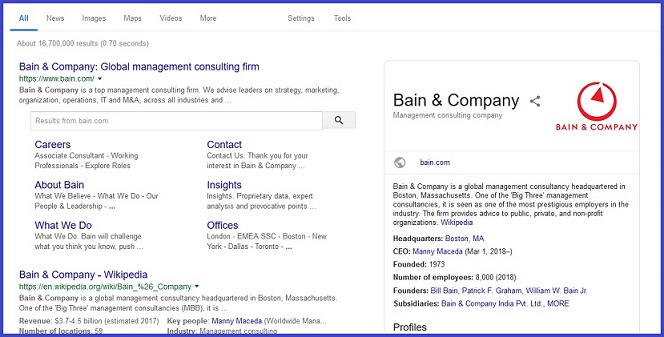 In addition to ranking high for branded searches, you will likely dominate search results with a Google Knowledge panel which I will dive into below.
Google Knowledge Panel (a.k.a. – the Google Knowledge Graph)
People are hot to get a Google Knowledge Graph, one of Google's new search result panels. It has been coveted by companies since it first started appearing a few years ago.
The panel is the box that appears on the right hand side of search results in Google.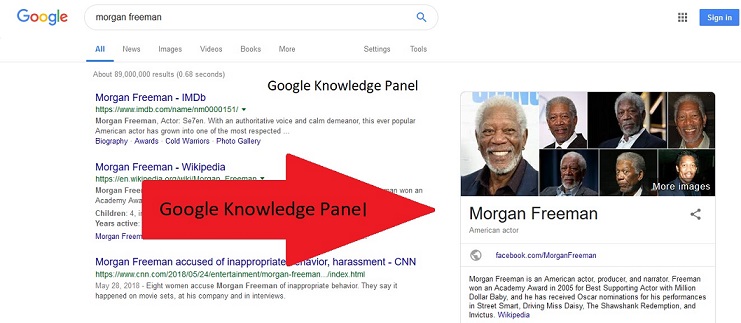 Why should you care about having a Google Knowledge panel?
"If Google decides to show your knowledge panel, you pretty much dominate the search results on the right side of the screen in desktop search," writes Yoast.
Yoast is right. People are attracted to the Google Knowledge Panel for a number of reasons. The main reason is because of the layout of Google Search itself. It is one of the most boring search result pages as it doesn't contain banner ads or anything flashy.
The Knowledge Panel is something that stands out and naturally draws people attention from the rest of search results.
So how do you create a Google Knowledge Panel?
Well, it's not as simple as "creating" one.
Google creates and controls the panels. The only thing you can really do is verify the information in the panel with Google after it has been created. So if you cannot create them, how do they appear?
You guessed it. Wikipedia.
Wikipedia is one of the main factors that drive Google Knowledge Panels. Google pulls information from Wikipedia to populate the various fields in the graph. Without a Wikipedia page, your odds of having a panel are slim to none.
There was even a time when it was thought that the Knowledge Panels were reducing Wikipedia traffic as people got all the data they needed without having to go to Wikipedia.
Keep in mind, as with branded searches, Google Knowledge Graphs are not going to pull a business based on a search term other than the brand name (I covered this above in "branded searches").
For instance, you cannot search for "ridesharing" and see the Knowledge Graph for "Uber." Panels appear on brand name searches (search for Uber, you will get the panel for Uber – search for ridesharing and get the panel for ridesharing).
As a side note, Wikipedia is not the sole factor for the panels.
Google also takes into consideration other websites such as Wikidata (a sister project of Wikipedia) and social media. While Google+ used to be one of the factors considered, the platform is now defunct and no longer used for Knowledge Panels.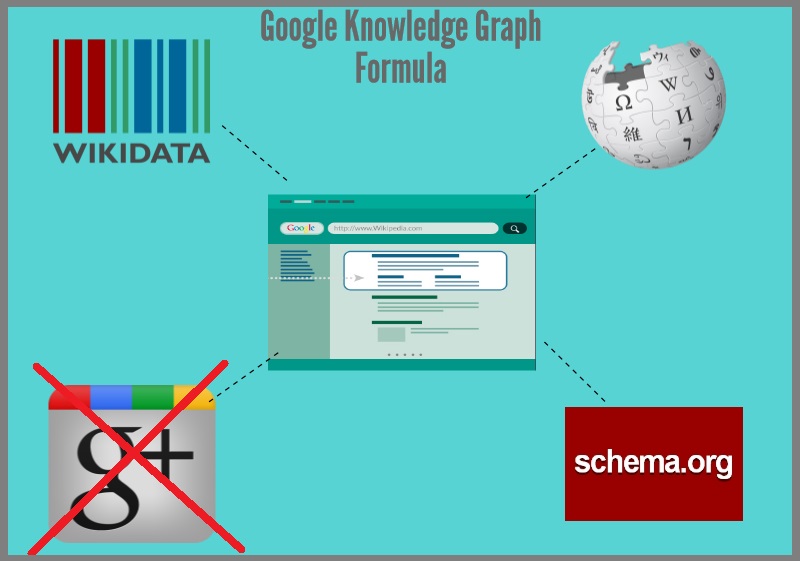 So now that you know about the SEO benefit and the creation of the Google Knowledge Graph, let's take a look at how potential customers use Wikipedia to compare you with competitors.
Competition Comparison
What do I mean when I say "competition comparison?"
Well, people will want to look at you and your competitors when doing research. Wikipedia allows them to do this. If they use Wikipedia for comparison purposes, you may be missing out if you do not have a Wikipedia page.
Here is what I mean.
Wikipedia pages are categorized for ease of use. When you go to a page (for example, let's look at E-Trade), you will see categories at the bottom of the page.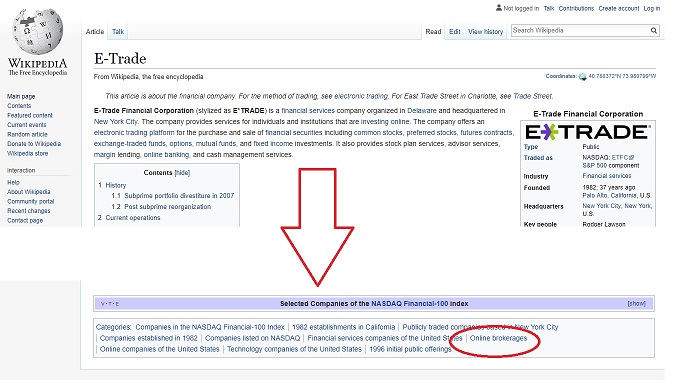 In the example above, you will see the category for "online brokerages" at the bottom of the page. When people click on this link, they will be taken to a category page containing all Wikipedia pages that are online brokerages.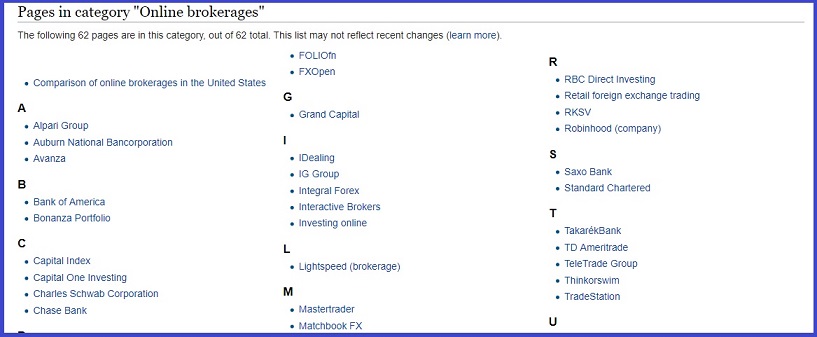 If you are an online brokerage and don't have a Wikipedia page, you will not show up in this category and people may not even know you exist; or, if they do know you, may forget to include you in their comparison as you're not in front of them on the list.
It gets even better. Wikipedia has pages that list out specific companies in a category; and, sometimes have comparison pages to help you choose the right provider for the service you are looking for.
In this case, Wikipedia has a page for comparison of online brokerages. It allows you to sort by name, initial funding amount, commission, etc.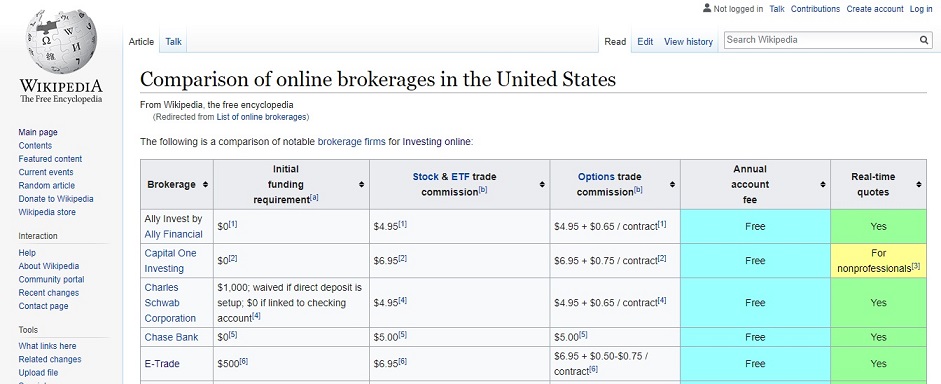 Wikipedia has a number of list and comparison pages for various industries. Just a few include:
They even have a page for comparison of file comparison tools. (comparing comparisons? Lol)
Before You Start Creating a Wikipedia Page
Now, before you get too excited and jump head first into using Wikipedia in your marketing strategy, there are a few things you need to know.
First, you need to find out if you even qualify for a Wikipedia page. Just because your competitor has a Wikipedia page does NOT necessarily mean that you qualify for one. You must be notable according to Wikipedia guidelines, regardless of what industry you are in.
How do you know if you are notable?
Wikipedia has a list of guidelines on notability. There is a general notability guideline and then individual guidelines specific to your industry (sports, companies, music, etc.).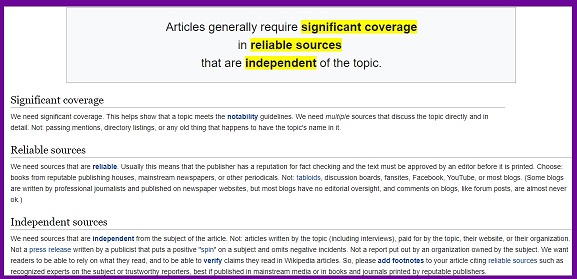 Basically, you will need significant coverage in reliable sources that talk about the subject of the page you want to create. This coverage must be more than a brief mention (the articles need to focus on the subject) and they must be independent of the subject (press releases, official websites, and user generated content do not qualify).

I put together a guide that summarizes the Wikipedia notability guidelines. If you are still unsure if you qualify after looking through the guide, you can always contact me and I will let you know. Free Wikipedia evaluations are available by filling out the form at this link.
Once you know that you qualify for Wikipedia, you need to make sure that you adhere to other guidelines when creating the page. You will need to include proper references, write in a neutral tone, and do not write anything that reads like an advertisement for the subject you are writing about.
Wikipedia has a guide they put together called Your First Article. It will help guide you through the process of creating an article, including showing you how to find references and how to submit your draft Wikipedia article for review.
Finally, make sure that you follow the guidelines stated above. Submitting a draft that is too promotional or not using the proper references can get the article deleted.
Final Thoughts
Even if for search engine optimization or the creation of a Google Knowledge Panel for your company's branding, you should start thinking about Wikipedia. Make sure you qualify prior to creating an article and adhere to guidelines on referencing, tone, and others when submitting your draft.
As always, you can contact me for a free evaluation of your article. I also offer telephone consultations for those who want to do the work themselves or just want answers to questions about the process.
So, what do you think about making Wikipedia part of your online marketing strategy?