You are probably here because someone suggested you increase your legal content writing. Or, maybe you have done content writing in the past and want to get back in the saddle and find out what's new in the industry. Either way, this article is designed to show you what types of content writing you will want to pursue as an attorney, as well as how to be effective at each type.
First, let's talk a little bit about why you need to market yourself. It may sound like a no-brainer, but lawyers are notorious for neglecting their duty when it comes to marketing.
"One of the interesting things I noted from [a] lengthy conversation thread was that nobody disagreed with the premise that lawyers generally seem averse to marketing," according to Legal Marketing Reader. This is all too common for lawyers and law firms.
"More often than not it comes down to the fact that successful lawyers have mastered the art of rainmaking, marketing and client development skills," writes Coaching For Lawyers, "while those who are unsuccessful have not. The importance of learning how to market your law business cannot be overstated."
So, it is important that you step up your game. You are one of thousands of attorneys out there competing for business. Not only do you need clients, you need qualified clients. Legal content writing is one way to bring the clients to you.
Content writing for the purposes of marketing is easy and will not break your marketing budget. With a little help from an agency or your in-house staff, you will be able to ramp up your efforts and start making an impact in search results.
Now, let's take a look at some of the different types of legal content writing. Note, you don't have to do all of these to be effective, but the more of each you utilize, the more likely you will attract clients from different sources.
Creating Blog Content
Legal content writing should first focus on blog content. There are always those who say you don't need it, but the consensus among marketers is that it is one of the best marketing tools available. You absolutely need a blog.
People who search online are not initially looking for an attorney; they are looking for advice.
Here is an example:
Let's say someone was arrested for possession of drugs. They don't initially search Google for a good defense attorney. Instead, they begin searching for things like the maximum time they could get for the charge or how to get evidence thrown out at trial.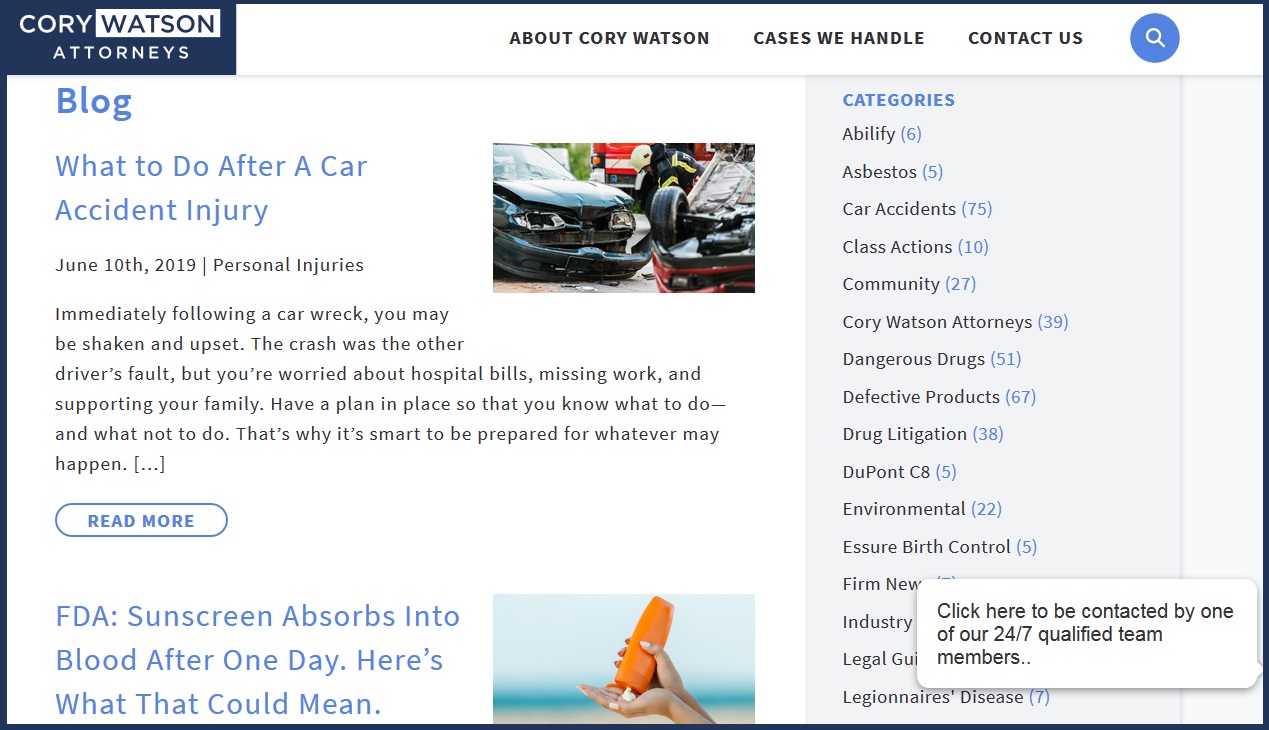 If you want to be the attorney they choose for their case, you want to have this type of content on your blog. Offer factual articles about things you learned in law school, such as sentencing guidelines, jury instructions, and typical outcomes for cases you have dealt with. If people like your content, they are more likely to use you as their lawyer instead of coming out of your site and conducting another separate search.
"[A blog is] a place where you find your customers, feed them information, and position your value — the equivalent of a digital salt lick." – Entrepreneur
The best way to attract people to your website is through legal content writing on your blog. This is not the only way (which we will dive into shortly), but it is the best. People are searching for valuable content and if you don't have it, they will leave for another website. Google will also see how quickly people leave your website and start dropping you to the second and third page of search results.
Types of Blog Content for Law Firms
Blog content comes in many forms. I always suggest changing things up so you have a mixture of each type. However, the choice is always up to you and it really doesn't seem to make a difference for search results.
After a few months of posting different content, you can analyze which types are driving the most traffic and adjust accordingly. Basically, choose the type of content you feel is best suited to your audience.
Now, let's look at the various types of blog content you can use for your law firm.
Advice, Information, and How-To Articles
Advice and how-to articles, similar to the one you are reading, are great to attract new clients.
However, please note that as an attorney it is very important to distinguish the difference between legal "advice" and legal "information." Giving out advice can sometimes come back to haunt you if a person takes your advice and things go wrong. So, how do you give advice without actually "giving advice?"
Simple. Give them facts about the legal system without telling them what to do.
"Legal advice is one thing, legal information is another. By the very definition of "legal advice" versus "legal information" it can easily be seen why giving away legal advice is unwise, while legal information can be useful." – HG.org
An example would be to write a blog post about the difference between 1st offense and 2nd offense drink driving. Of course, this will vary by state but you can always discuss the specific law.
At the end of each of these posts, you should put a disclaimer that the information was valid at the time the article was written, and that readers should reach out to you if they would like to meet to discuss their specific case (your call to action).
Most state bar associations and local courts provide guidance to attorneys and court personnel on what constitutes "advice" versus "information." An example is California that says court personnel can "explain and answer questions about how the court works," but cannot "tell you whether or not you should bring your case to court."
Newsjacking and Case Opinions
Newsjacking is a term that can be traced to David Meerman Scott, the author of a book by the same name. Throughout the years, marketers have perfected this type of legal content writing which is always an easy way to fill your blog with valuable content.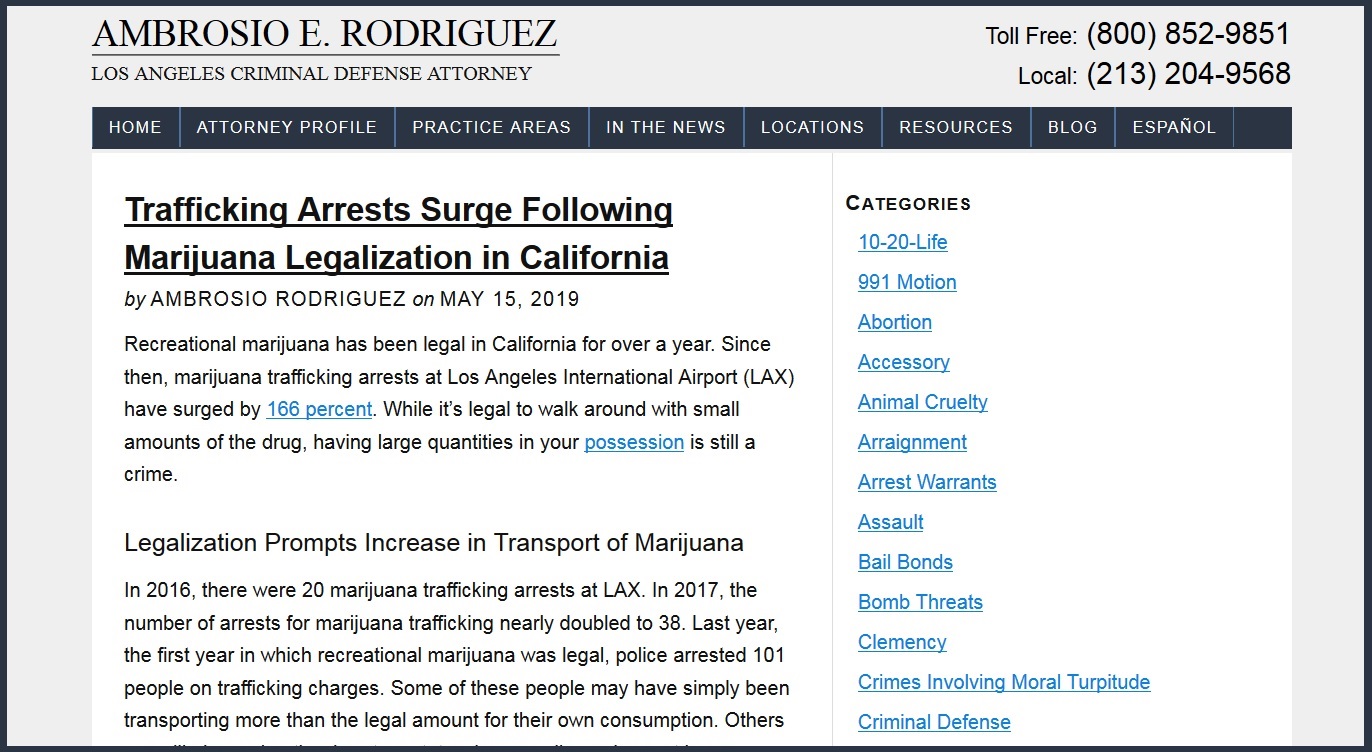 Newsjacking is simply taking an item of note from the news and interjecting your opinions into the story. Here is an example:
Let's say the Supreme Court makes a ruling of national attention. The case is likely going to be all over the news, and media outlets across the country are writing simple factual pieces about the topic. However, many news outlets don't have in-house legal experts (but you do – hint, hint).
So, take the information and write your own version of the story with all the facts you can get from other news outlets. Then, add your own opinion about the ruling and whether you feel it was correct or whether you think the court erred in its ruling.
This doesn't have to be as long as a brief for the court (or a dissenting opinion piece). It can be as little as a few hundred words all the way to a few thousand words. Remember, you are writing for your audience so often it is better to keep it short and to the point.
Resource Lists
Resource posts are fun as you will find yourself using them. A resource post, as the name suggests, is an article that contains resources for a specific situation.
As an attorney, you can utilize legal content writing to make a list of resources for specific cases. For instance, you can have a post about dog bites that lists information such as:
Non-emergency number of your local police department
Non-emergency number of your local hospital
Animal control
Websites that talk about prevention and treatment of dog bites
Insurance claim websites
This is just a partial list of course. A great example of a dog bite resource page can be found at Finlaw.com.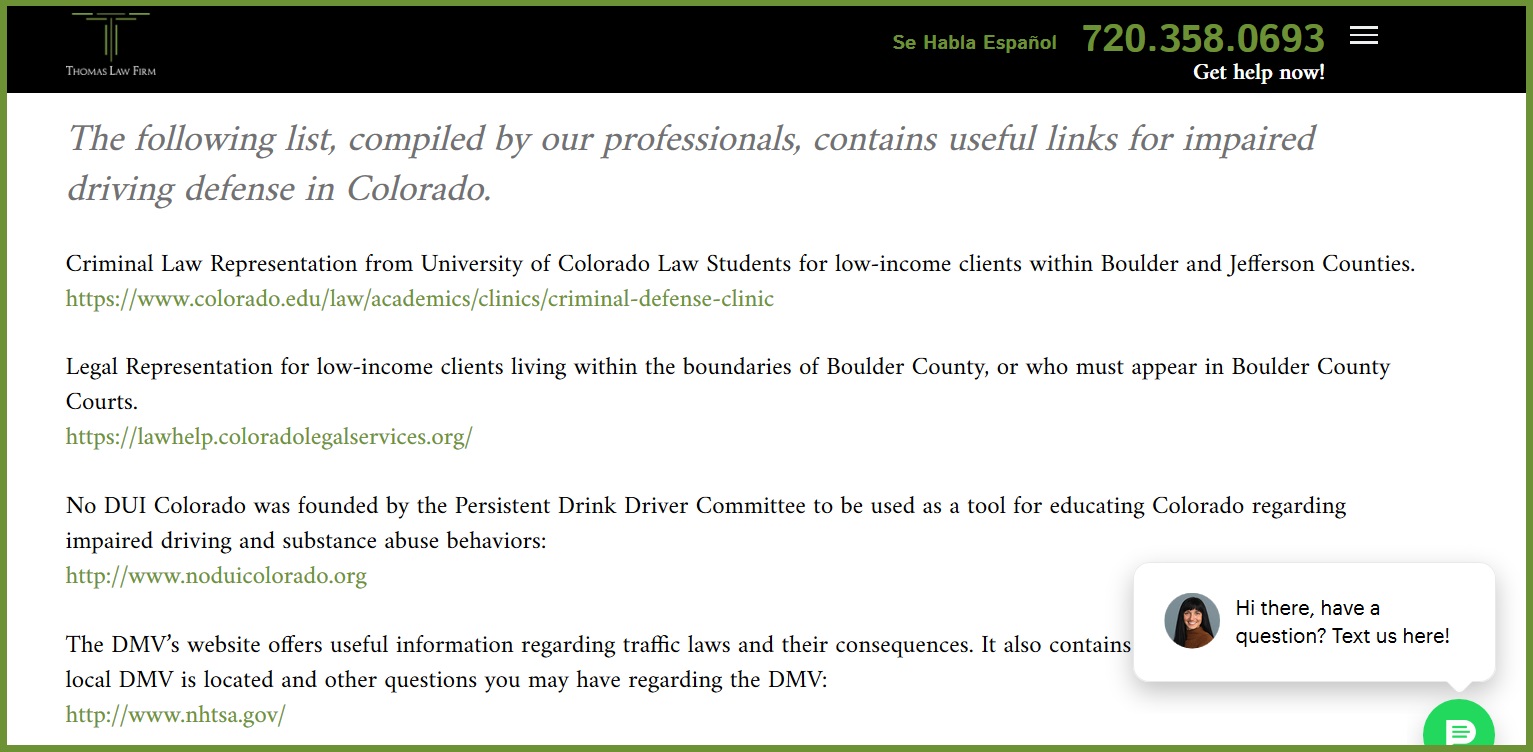 I recommend splitting the page up into local and national resources. It will help Google determine where to place you in search results so you are getting the most relevant visitors to your site.
Remember, people are initially looking for answers to questions so make sure to write your resource posts accordingly. As always, place a call to action at the bottom for people to contact you with questions or to set up an appointment.
Infographics
Infographics are online posters that display a story. A good infographic can tell the same story as a well-written blog post, only it will do so in images and brief statements.
The main use of infographics is to use them as blog posts. You can write a brief introduction (2 to 3 paragraphs – about 300-400 words), followed by the infographic. This allows you to spend less time writing and you can create multiple blog posts while writing fewer words.
One advantage of infographics is that they can be repurposed. Most infographics are sectioned off so you can cut them up and use them in different blog posts. You can see an example of how I do this in my article on owned, paid and earned media. The images you find in that article are simply cut-ups of the infographic I have posted here.
There are many other uses for infographics, such as using them as a resource for other attorney websites (you will wind up with a backlink to your website which is good for SEO). You can also use them for newsletters or landing pages for your website.
I use Piktochart for my infographics. No, this isn't a paid advertisement. I actually believe they are the best out there. I also use the site for creating other images and graphics to use in my legal content writing.
Blog Keywords and Links
I also want to talk briefly about keywords. These are mainly a thing of the past. While still relevant, they don't take on the same meaning they used to.
You are likely thinking you want to include keywords such as "drunk driving attorney San Diego." Well, SEO doesn't work like that anymore. In fact, it will likely get you blacklisted by Google and you will wind up dropping out of search results altogether.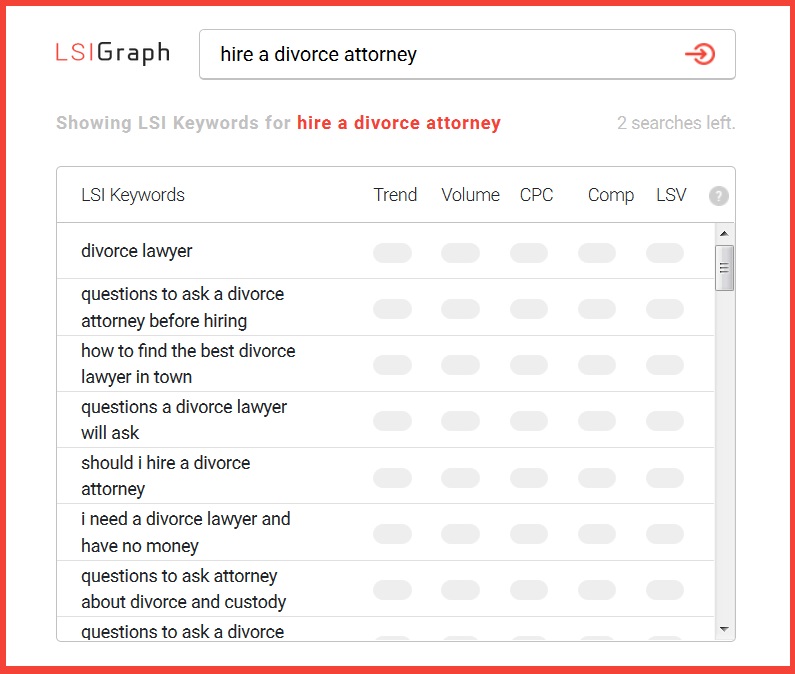 So, what keywords do you want to use?
Well, if you are focusing on getting clients who have been caught drunk driving in the San Diego area, simply write about drunk driving. Google has come a long way and will know that you are based in San Diego and that the blog post is about drunk driving. It will then send people to your website based on the term "drunk driving attorney San Diego" as it knows the article is related.
These type of exact match keywords need to be abandoned. One suggestion I make is to utilize LSI keywords throughout your articles in order to avoid keyword stuffing, while at the same time covering the multiple variations of a keyword phrase.
However, links within your blog posts are essential to legal content writing. There are many best practices that you can use to make sure you have enough of each, but here are a few suggestions on things you need to STOP doing:
STOP linking to your homepage.
STOP using the same link multiple times.
STOP using exact match anchor text to both internal and external links.
STOP linking to external pages that rank higher than you for the keyword(s) you are targeting.
Authority Guest Posting and Byline Articles
Before you skip past this thinking about low-quality guest posting, hear me out. I am not talking about spamming tons of websites and asking to place a post. I am talking about becoming an authority in your niche by writing for publications in your field.
Here is an example:
I am a marketer and give advice on business development. I could try to guest post on low-level blogs, but that would defeat the purpose. I would wind up with hundreds of guest posts with very little link juice or authority.
So, I instead became a writer for publications such as AllBusiness, Forbes, Entrepreneur, Law Technology Today and others.

I don't get paid to write for these publications, but my target audience is within these niches. As such, people can read my articles and, if they like my advice, come to my website and we can start up a conversation on how I can help their business.
As a legal professional, here is a list of sites that you should consider writing for. I included links to the landing pages with specific guidelines about writing for each site.
Cision also has a list of top 50 law blogs along with their influence rating. You can find lists like this all over the internet by doing a simple search.
The benefits of doing this are simple:
First, you will receive a backlink to your website from your byline.
Second, you will be seen by potential clients as an authority in the field and they will be more likely to come to you. You can even use your bylines as a reference for people who want to vette you.
Finally, when it comes to looking for an expert for commentary, news outlets will be more than happy to reach out to you for a quote. This will lead to more credibility when you show up on a local television program giving advice on a specific legal topic.
On a side note, you can also try to go outside your niche and into a general publication that covers many topics (including law). These would include Entrepreneur, Forbes, and Business2Community to name a few.
You can become a regular contributor to publications, or you can do one-off articles that are beneficial for a specific audience. I do both.
Video Content
You may already be aware, but if not, here is a startling statistic: 85 percent of people in the United States watch online video content on a monthly basis.
Even more astonishing is that a 1/3rd of the time, people watch videos more than any other online content. That means you have the potential of reaching 33 percent of your target audience by only doing video content marketing.
If you are not already doing videos as part of your legal content writing, you are falling behind. So, what types of video content should you post?
Well, follow the same guidelines as stated above for blog content. You can do videos that show the process of a trial or even just sit in front of a camera to talk about a specific news story.
You can also take advantage of websites such as Fiverr to develop storyboard videos based on blog posts you have already written.
Just remember to be authentic with what you put on video. People would rather watch than read, so be yourself when shooting a video. Also keep things short and to the point as most people don't want to wait five minutes to hear about the information they are searching for.
After you make the videos, how do you go about utilizing them online?
YouTube
You first need to create a YouTube channel. It is basically an extension of your blog, but there is an added benefit. YouTube isn't just a website, it's a search engine.
In fact, YouTube is the second largest search engine behind Google. When you post videos to your YouTube channel, you will not only reach a large audience, you will populate yourself into a searchable database too. You will also show up on Google video results and showcase your expertise to the world.
Social Media
I'll admit: I hate social media. Most lawyers do as well. However, it is a necessary evil for marketers. Don't believe me? Consider this:
People watch more video on Facebook than they do YouTube. So, you need to maximize your video exposure by not only populating your YouTube channel, but also sharing it on social media.
If you have video content, make sure to share it on social media. You can use Facebook and Instagram (my top two favorites) to share the videos. I would suggest sharing the direct link from Facebook but you can also upload direct.
Blog Posts
This is the best part about video content marketing. You can embed your videos into blog posts on the same topic. All you have to do is make a video and then write a blog article about the same topic. After you upload the video to YouTube, embed it into the blog post for added exposure.
Book Marketing
Want to really juice up your legal content writing? Write a book.
I know: you don't have the time to sit down and write a book. However, it is not as difficult as you may think. In fact, anyone can write a book nowadays.
You don't need to pitch a publisher as you can self-publish through Amazon. In addition, you don't have to write a book with 200+ pages. You can simply write 10-20 pages and publish it as an e-book. This article is actually long enough that I could have turned it into an e-book. However, I elected to make it a long-form content article instead.
When you publish a book there are a few benefits that come with it.
You will be able to create an author bio on Amazon.com. This will help with getting your name out there. It will also give you a backlink as you will be able to leave a link to your website in your profile.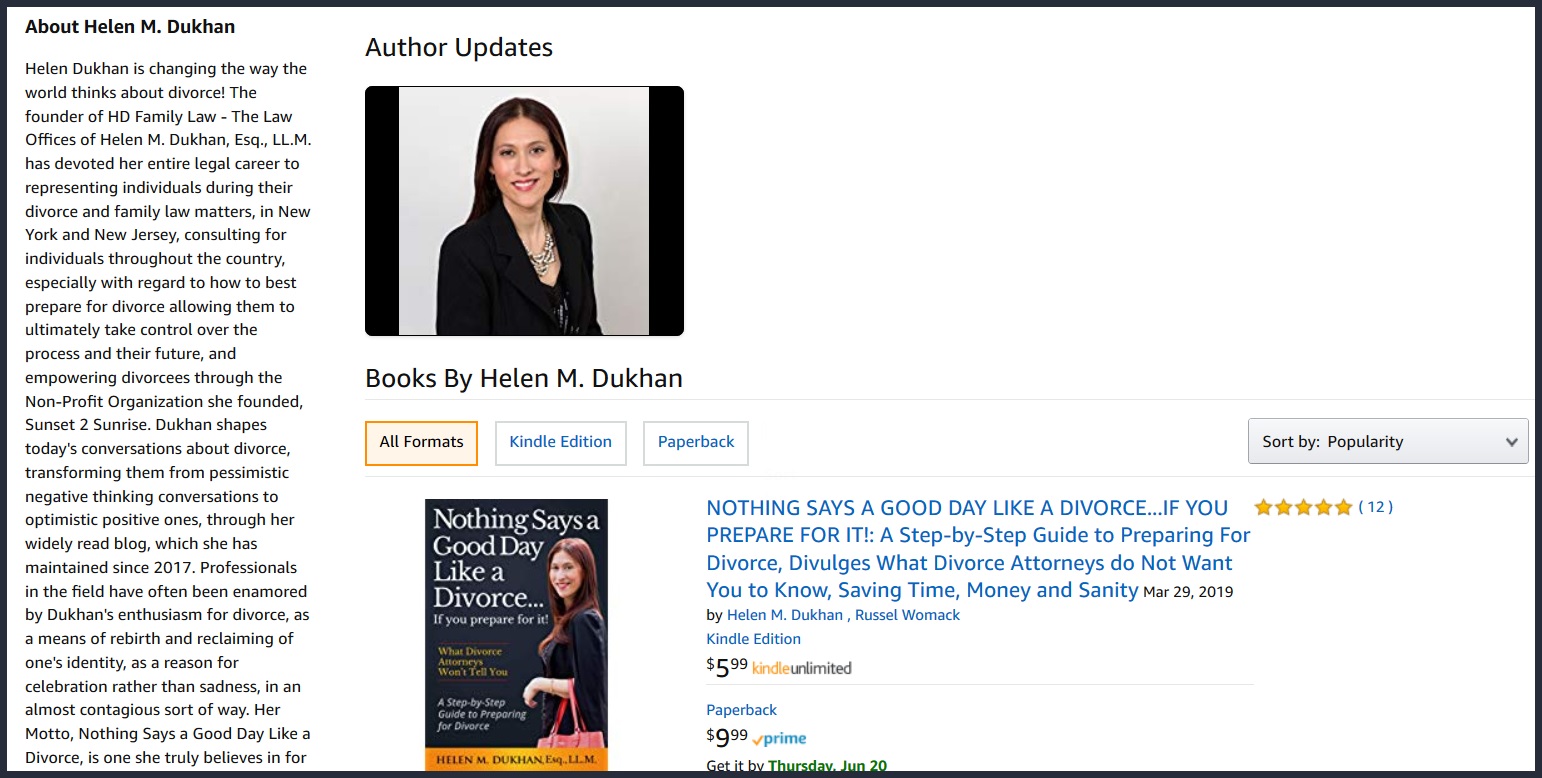 People searching for legal information on Amazon will also come across your book and may check out your website. Therefore, it ultimately works as another way to get traffic to your website.
A book will help to establish you as an authority as well.
Again, writing a book doesn't have to be difficult or take up all your time. You can even hire a ghostwriter on a freelance website to put the information together for you. All you will have to do is read through and proofread to make sure it says what you are comfortable with saying.
Legal Podcasting
Ahh. One of my favorite forms of legal content writing. Technically it isn't "writing," but I will tell you why it falls into that category in a minute.
I started a podcast a few years back. I didn't want to, but it was all the buzz and I wanted to see what the benefits and drawbacks were. I was able to produce about 6 months of episodes before I shut it down. I started to receive so many referrals from the podcasts that I couldn't keep up.
You don't need a lot of money to start a podcast. I got started for under $300 which included the equipment needed to speak and record each episode. I paid about $25 per episode for editing and a one-time fee of $25 for intro and outro music.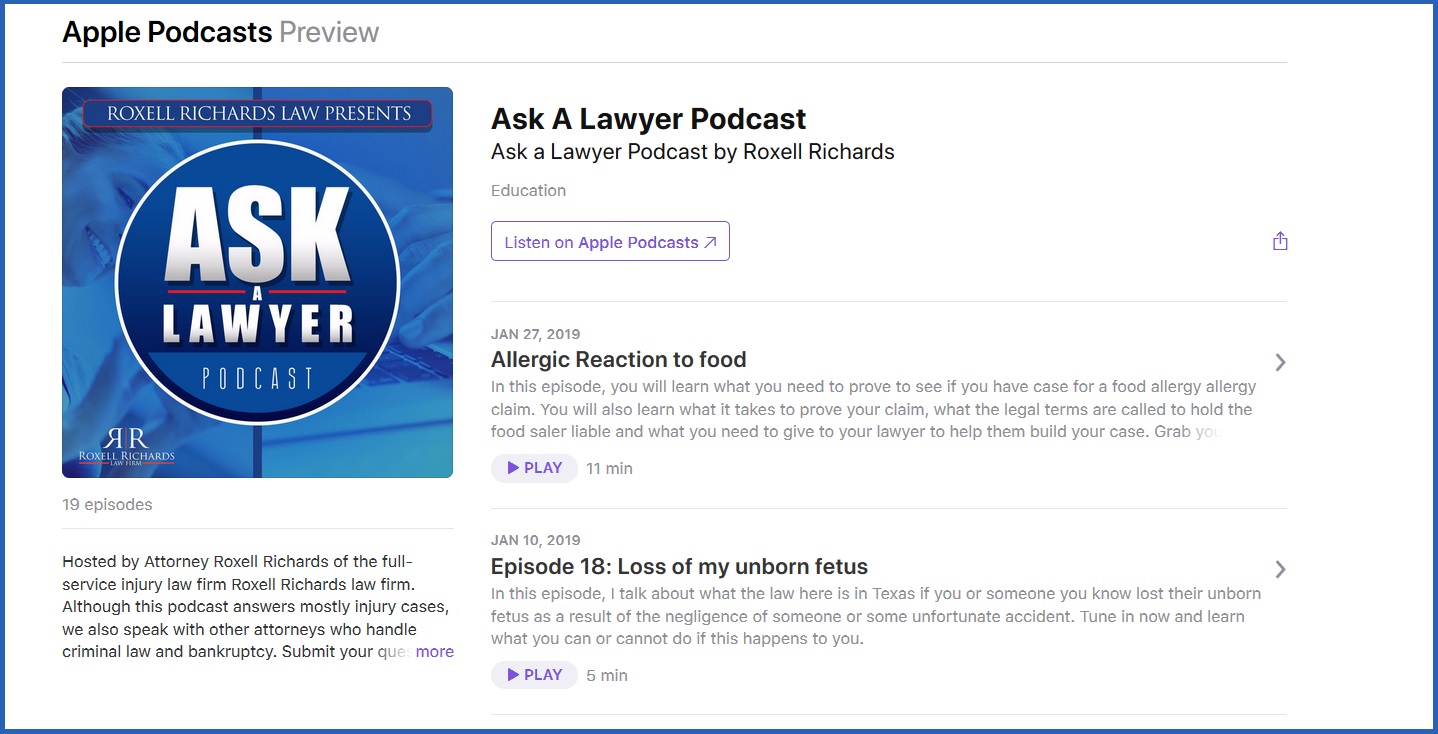 The great thing about podcasting is that your guests help promote you. When you have someone from the legal community with you discussing a specific topic, they share the podcast on their own website and social media.
Still not sold on podcasting? Here are some stats that may help. These were put together by Convince & Convert, one of the most popular marketing publications available online.
64 percent of Americans have heard of podcasts
44 percent of Americans have listened to a podcast
26 percent of Americans listen to podcasts monthly
In 2018, there was an increase of 6 million people who listen to podcasts weekly
23 percent of Americans have listened to a podcast in the car
49 percent of podcasts are listened to by people while at home
"One reason podcasts are so popular is that the format is uniquely situation to fit into our busy lives. Any topic you're interested in? You'll find a podcast dedicated to it." – Forbes
Podcasting is a form of legal content writing just like videos. While not technically a "writing," it does serve as something you can incorporate into your writing. Firstly, you have a separate section on your website for your podcasts. You also have summaries of each which you will need to write and this provides target keywords for Google search.
So, while not technically a writing, it is utilized as such.
Wikipedia Page for Your Law Firm
Although Wikipedia is one of my specialties, I saved it for last. Why? Well, truth is most lawyers and law firms don't qualify for Wikipedia. As such, I recommend they focus their legal content writing with the methods I described above.
However, having a Wikipedia page can do wonders for your brand. Not only does it give you authority with your client base, it can also help generate a Google Knowledge Graph. It is still one of the top 10 most visited sites in the world so you will receive plenty of link juice as well.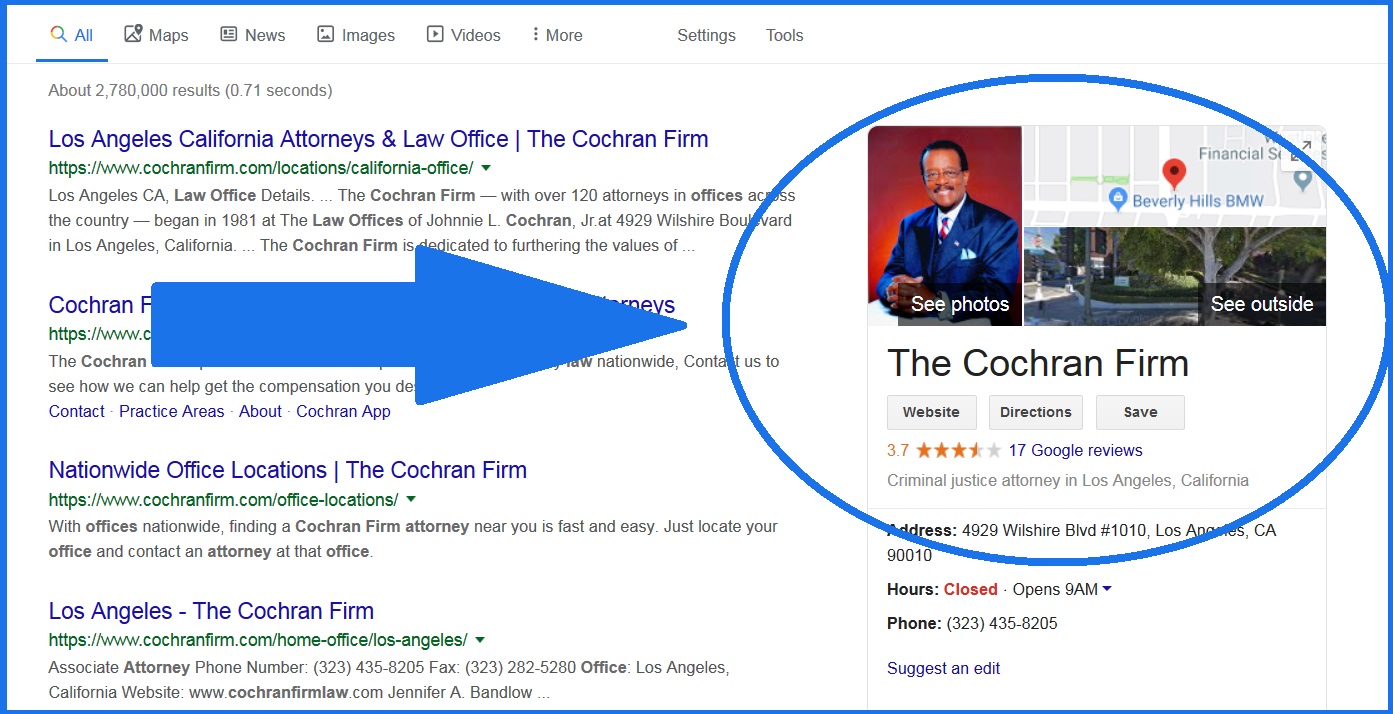 There are just a few things to keep in mind prior to deciding if you want to pursue a Wikipedia page.
First, Wikipedia is not a website for advertising. If you don't qualify for a Wikipedia page about your law firm, don't even attempt it. Focus your marketing dollars elsewhere.
Second, Wikipedia is not the holy grail. Many people come to me with the "must-have" mentality of creating a Wikipedia page. Although an important part of your marketing plan, Wikipedia should not be your main focus. You can get more traffic from a well-placed article using media outreach than a well-written Wikipedia page.
Finally, you cannot use Wikipedia to promote yourself. If you do qualify for a Wikipedia page, you will need to accept that your page will be right to the point without any fluff. Imagine what your entry would look like if you were in an actual printed book encyclopedia. That is exactly how your article should look. Leave out information such as awards or anything else that may seem like it is talking about how good you are.
Now, let's take a look to see how you qualify for a Wikipedia page.
Qualifying for a Wikipedia Page
In order to have a Wikipedia page, you need to meet Wikipedia guidelines on notability. There are three guidelines that apply if you are an attorney or law firm:
General notability is established when there is significant coverage of the topic in reliable sources that are independent of the subject. This is what is considered Wikipedia's "golden rule." Remember that the coverage must be in-depth (it must talk about the subject in detail, not just a brief mention).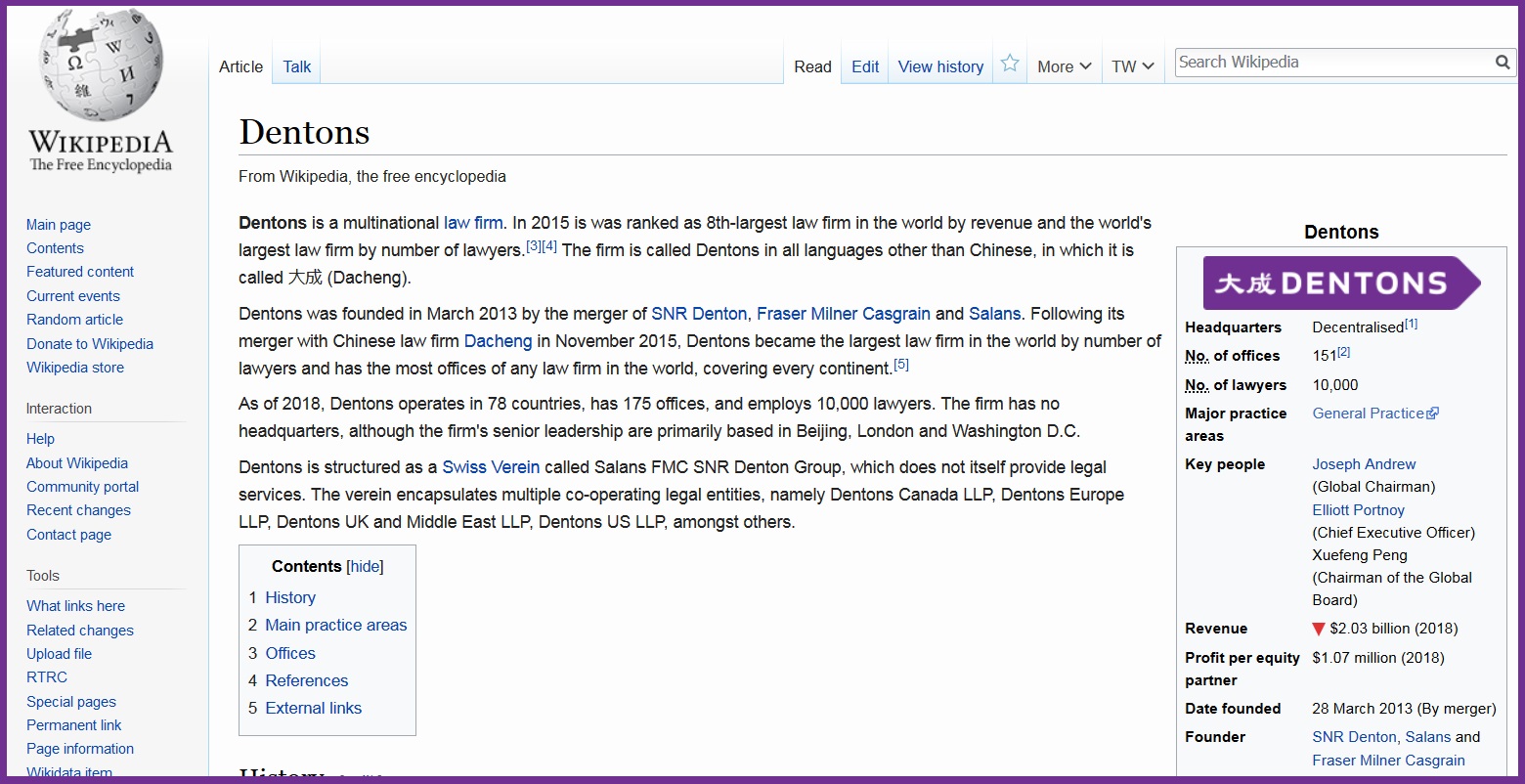 There is a subset of guidelines specific to companies (law firms) as well as biographies (attorneys) that can also be satisfied for inclusion in Wikipedia. They normally follow the same rules as general notability guidelines, but guidelines for companies can be more stringent because of companies wanting to spam Wikipedia.
If you are unsure if you meet notability guidelines, you can always complete our online form and receive a FREE evaluation.
Backlinks from Wikipedia
Yes, Wikipedia backlinks are no-follow. However, you still get plenty of link juice from Wikipedia links. That makes them attractive for spammers and marketers.
With that in mind, I advise to never attempt to get a backlink from Wikipedia. There is a process to follow to get them, but the chances of them actually remaining are slim to none. In addition, your website will likely get blacklisted by Wikipedia which is never a good thing.
Due to these restrictions, I recommend going through backlink outreach for websites and getting some high authority links. As with a well-placed article in Forbes or the like, a well-placed backlink in similar publications will do more for you than a backlink from Wikipedia.
Summing Up Legal Content Writing
You can spend all of your time creating content. However, it is what you do after you create it that counts. Simply writing and posting is not enough. You want to share your content with the world so that you gain more traffic and establish your authority.
Again, you don't have to use all of these mediums described herein. But I recommend you do as many as you can. The more avenues you take, the more likely you are to attract clients. By this I mean someone may miss your blog posts but come across one of your videos on Facebook. Without having that video, you would have lost a potential client as they never saw your blog.
Finally, make sure you continue in your online marketing efforts. Attorneys and law firms are notorious for neglecting marketing. If you are one of the few who don't, this will help you get more traffic and more clients. You will also take business away from the competition, putting more money in your pocket. That's why you're in business in the first place.
If you are looking for a good content writer or have questions about legal content writing, please reach out to me and my team. We have plenty of experience with helping law firms expand their reach and can do the same for you.